Okay, so I'm admittedly a bit confused over this latest news to come out of the ongoing Barack Obama BlackBerry drama. Last I heard, U.S. President Obama had been allowed to continue using his trusty Verizon Wireless BlackBerry 8830 World Edition after being inaugurated in January. A report published yesterday says that was not the case; however, a "souped-up, high security BlackBerry for use in and around the White House and during presidential travel" is about to land in the man's hands.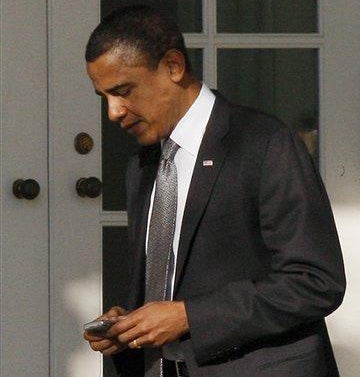 What kind of BlackBerry is the leader of the free world getting? Why, a BlackBerry 8830 World Edition, of course. Not a shiny new Bold. Or even a Curve 8900. I guess he won't have to face any new-device learning-curve…at least from a hardware perspective.
The software, well…that's a whole different story.
Washington-based Genesis Key developed the special security software for Obama's new 8830, called SecureVoice, which will presumably run alongside the traditional BlackBerry OS. Officials from the U.S. National Security Agency (NSA), the White House Communications Agency (part of the Pentagon's Defense Information Systems Agency), Research In Motion (RIM) and Genesis Key all collaborated on the presidential 'Berry. The software is designed to provide secure access to NSA Top Secret information, which is one of the highest U.S. security classifications. And it works on any 8830 or Curve, though it's unclear whether that's the original Curve 83xx family or the new, revamped Curve 8900, according to The Washington Times.
Unfortunately, the presidential 'Berry will only allow for secure communications with people who are also using SecureVoice-enabled devices. So the new CommandoBerry–my term, not Obama's, nor the NSA's–could find its way into the pockets of top presidential aides, possibly even first lady Michelle Obama, who, like her husband, is an avid BlackBerry user.
The uber 8830 is currently in the final stages of development, according to Obama administration representatives. The NSA plans to soon begin testing to make sure the BarackBerry meets federal encryption security standards, and it could be ready for the president in just a few months' time.
This has got to be music to President Obama's ears, especially when you consider the fact that he has reportedly been forced to use a "FrankenBerry" of sorts since taking office. Apparently the president hasn't turned over his regular BlackBerry 8830; he has been connecting it to the fugly Sectera Edge we showed you way back in January in order to meet security requirements.
From the report:
"The General Dynamics-made Sectera must be plugged into the presidential BlackBerry, making it more cumbersome than a secure BlackBerry."
Ya think? I can't help but wonder if the new BarackBerry has a key to alert Obama whenever Al Gore is within a mile of the White House….
AS