While making the rounds on the CTIA Wireless Spring 2009 show floor, I poked into the Opera Software booth for the scoop on its BlackBerry-related initiatives–and the news isn't good, at least if you're a fan of Opera's mobile browsers and BlackBerry smartphones.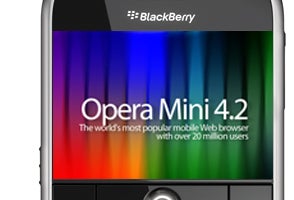 As most BlackBerry owners know, RIM's browser is weak, to put it mildly. It's slow, clunky and handles Javascript about as well as a five-year-old PC runs Windows Vista…which isn't good.
Opera Software already makes one of the most popular alternatives to RIM's default BlackBerry Browser, Opera Mini. Many CrackBerry addicts, myself included, look to third-party browsers like Opera Mini to avoid the headache that is the BlackBerry browser.
The best options right now: Opera Mini and Bolt, neither of which is BlackBerry-specific. That means that while both software offerings will run on modern BlackBerry devices, as well as a variety of other handsets, they're not tailor made for RIM devices, and as such, don't take full advantage of all the features and functionality BlackBerrys have to offer.
But according to Ted Miller, an Opera Software North America communications manager, that's not due to a lack of effort on Opera's part.
"We probably meet with RIM three to four times a year," Miller said. "It's a fairly open dialogue."
The problem: Beyond the chit-chat, RIM doesn't want to share technical details or other potentially helpful information to let Opera build a new BlackBerry browser.
Opera Mini's main advantage over the default BlackBerry browser is speed, according to Miller.
Miller says he and Opera have attempted to convince RIM that its customers want a BlackBerry version of Opera Mini, or its other handset browser, Opera Mobile, by offering up Opera usage stats. Roughly 2.5 million of Opera's 20 million Opera Mini users are BlackBerry owners, according to Miller. RIM has more than 16 million BlackBerry subscribers. That means that more than 15 percent of RIM's customer base uses Opera Mini.
Still, RIM won't budge, Miller says. Though Opera launched a new North American data center, or "server farm," last fall to improve the browsing experience for all Opera Mini users, BlackBerry owners shouldn't expect anything major from Opera in the coming months and years.
The company hopes to release an updated version of Opera Mini later this year, according to Miller. But he doesn't expect any BlackBerry-specific offerings in the foreseeable future. The ball is in RIM's court, he says.
Why wouldn't RIM want to work with Opera to create a new BlackBerry browser? Well, because it's working studiously away on its own offering; the company said so at its BlackBerry Enterprise Server 5.0 event in New York City earlier this year. A new, improved Opera browser for BlackBerry could reduce interest in RIM's own software.
I can only speak for myself, but I would personally love to see a BlackBerry-specific version of Opera Mobile…and a new, fantastic BlackBerry browser–though the later option may be just as unlikely as the former. Come on, RIM, hear our pleas: We want more BlackBerry browser options. Or at least let us set Opera Mini or Bolt as our default browser. Really, it's the least you could do.
AS
FREE CIO BlackBerry Newsletter
Get better use out of your BlackBerry and keep up-to-date on the latest developments. Sign-up ť