Macintosh users with BlackBerry smartphones just got one step closer to being able to use theirs Mac to fully manage Research In Motion (RIM) devices. That's because RIM has quietly released a "preview" version of its BlackBerry Media Sync software for Mac, which lets BlackBerry owners sync their non-DRM protected iTunes music files to their smartphones.
Though Mac users can already sync music, contacts and calendar information through third-party Mac applications like PocketMac and Missing Sync, there's currently no way for Mac owners to perform advanced BlackBerry managements functions, like updating an operating system or backing up and restoring data—at least without running some sort of Windows virtualization app.
RIM's BlackBerry Desktop Manager software, the default program for performing BlackBerry OS upgrades and backups, etc., is currently only available to PC users. However, I broke the news earlier this year that the company will finally release a variety of Mac-specific BlackBerry tools in 2009, and it looks like RIM's getting a bit of a head start.
BlackBerry Media Sync for Windows has been available since June, and it has been a quick and easy way for PC users to get iTunes music onto their BlackBerrys. But the software isn't perfect, as some functions don't work exactly as they should. For example, BlackBerry Media Sync has had issues carrying artwork retrieved by iTunes over to RIM devices. An update to the PC version of BlackBerry Media Sync was recently released, but I've heard from a few readers that they're still having issues with album artwork.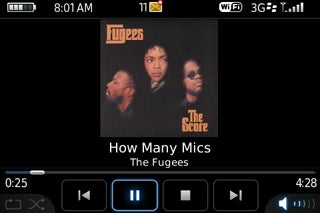 BlackBerry Media Sync for Mac appears to have the same issue—though it is a "preview" edition, and you can bet that's RIM's explanation for the artwork issue. I transferred roughly 7 GBs of music from my MacBook to my BlackBerry Bold last night—it took between 10 and 15 minutes–and only a very small percentage of my album artwork was carried over. And the artwork that did make it came from a source other than iTunes—in other words, any album artwork that I found using iTunes never showed up on my BlackBerry.
Regardless, it's nice to see RIM finally spreading some Mac love. Let's hope this is only the start of trend.
(Note: After installing the Preview Version of BlackBerry Media Sync, other software previously used to synchronize data with your Mac, such as PocketMac for BlackBerry devices or Missing Sync, will no longer be able to connect to your device and will not work until BlackBerry Media Sync is uninstalled.)
AS
FREE CIO BlackBerry Newsletter
Get better use out of your BlackBerry and keep up-to-date on the latest developments. Sign-up ť
Al Sacco was a journalist, blogger and editor who covers the fast-paced mobile beat for CIO.com and IDG Enterprise, with a focus on wearable tech, smartphones and tablet PCs. Al managed CIO.com writers and contributors, covered news, and shared insightful expert analysis of key industry happenings. He also wrote a wide variety of tutorials and how-tos to help readers get the most out of their gadgets, and regularly offered up recommendations on software for a number of mobile platforms. Al resides in Boston and is a passionate reader, traveler, beer lover, film buff and Red Sox fan.