This has got to be one of the most useless bizarre BlackBerry accessories I've ever come across—and I come across a lot of 'em—but I can't help wanting one just the same. Hong Kong's Brando, known the world over for its impressive collection of USB gadgets and gizmos, has released what it's calling a "Mobile Phone Telescope" for the BlackBerry Bold 9000 and Storm 9530.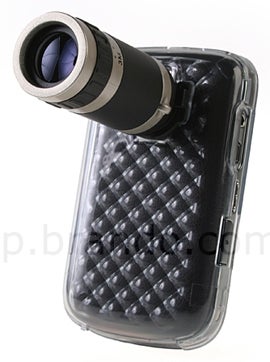 Never mind the fact that the 2.0 megapixel camera on the Bold takes pictures about as well as I can draw them, and I'm no artist. (The Storm's 3.2 megapixel shooter is better, but its shutter-lag-time, or the time it takes for the camera to actually take a picture after you tell it to, seriously impedes overall usability.) You can now "[o]vercome the short coming of camera cellphone that can only near-sighted, it also makes distant view for you at the moment."
Yeeeeeeeahhhh…okay.
The lens ships along with a see-through-plastic case that looks a bit like Seidio's Innocase and a strap that attaches to the back so you can…uh…dangle your telescope-equipped BlackBerry from your wrist? And it costs just $17.00, plus shipping.
Apparently you fit your device with the special case, attach the lens to its backside and you're ready for some sharp-shooting. The setup seems a bit bulky to me, as you'd need to lug it around everywhere you might want to use it. But if you need to increase the zoom functionality on your BlackBerry's camera, Brando's Mobile Phone Telescope is an option, albeit an awkward one.
Check out the Storm version here and the Bold here.
Not a BlackBerry user? Have no fear, Brando's also got a version for the Sony Ericsson Xperia X1.
AS
Gizmodo via BerryReview