I first posted about Research In Motion's (RIM) upcoming BlackBerry Application Suite (BAS) in mid-December after images and video of a Windows Mobile-powered HTC Fuze running the BlackBerry OS hit the Web. This week, RIM made the "BlackBerry virtualization" product official by demonstrating it in Barcelona at the 2009 Mobile World Congress (MWC). After reading countless news reports and early reviews—unfortunately, I wasn't able to make it to Spain myself—I got thinking about what the BAS could mean to enterprises, CIOs and their BlackBerry Enterprise Server (BES) administrators. Here's my take on what it means to you.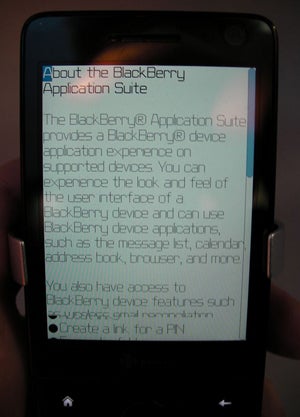 First, some details on BAS: The software lets users of Windows Mobile 6 or higher—right now, only HTC Touch Pro/Fuze smartphones, though that's expected to change in the future—run RIM's BlackBerry handheld OS. BAS provides access to the vast majority of features available within the BlackBerry OS, including Messages, BlackBerry Messenger, the RIM browser, even BlackBerry Maps. You will also be able to install compatible third-party apps.
The BAS will reportedly replace the aging BlackBerry Connect service, which enables organizations with non-BlackBerry devices to connect users to either BlackBerry Internet Service (BIS) or a BlackBerry Enterprise Server (BES), to utilize RIM's renowned "push" technology and boost security.
By all accounts, BAS runs fairly smoothly, though the OS version that's available via the app suite isn't RIM's latest; BlackBerry OS v4.2, the BAS OS, is more than three years old. In fact, RIM recently released BlackBerry OS v4.7 along with the BlackBerry Storm, and the company's expected to release v5.0 in the not-so-distant future. This is less than ideal, as it means a lack of HTML e-mail support, an earlier browser, etc., but it's not unreasonable to hope imagine that when RIM officially announces the BAS, it will include a more recent OS. Even if that's not the case, updated versions of BAS will surely include a newer version.
One complaint that everyone who has trialed the BAS seems to point out: without a trackball or trackwheel, the BlackBerry OS can be a bit of headache to navigate. The HTC Touch Pro features a five-button key and touch screen for navigation; however, BlackBerry OS 4.2 doesn't support touch gestures and as such, it's a pain in the BAS—please pardon my poor pun–to employ using a touch and a stylus.
Anywho, back to the bottom line for enterprise smartphone users and the administrators who support them. First and foremost, BAS is a third-party app, and as such, smartphone admins will need to allow its installation on users' non-BlackBerry devices. This won't be an issue for organizations with no third-party app installation restrictions via Exchange; but companies that control which apps can be used on corporate devices will need to revisit their policies—at least if they want to use the BAS.
While BAS clearly appeals to the BlackBerry masses due to its "cool quotient"—come on, who doesn't want play with a WinMo device running the BlackBerry OS??–the offering really has a much more mundane, yet valuable, purpose for the enterprise: It means that organizations now have one less reason to employ different server architectures and security infrastructures for BlackBerry and non-BlackBerry devices.
Nor will they need to employ a service like BlackBerry Connect. Companies will be able to deliver all or most of the crucial business functionality—and control–available in the BlackBerry OS, including the ability to connect to a BES, to users of non-BlackBerry devices via BAS. And
reports suggest a Symbian-version of BAS for Nokia and other S60 devices is also in the works.
That's good news for users, as well: it could mean they'll have more freedom to choose their own corporate devices in the future.
Right now, it's unclear exactly when the product will become available, but RIM's largest event of the year, the Wireless Enterprise Symposium (WES), is in May. Since the company's already demonstrating what appears to be a functional version of BAS, it may make its official debut this spring.
For more details on the BAS, check out BoyGeniusReport.com's hands-on review.
AS
Via IntoMobile and CrackBerry
FREE CIO BlackBerry Newsletter
Get better use out of your BlackBerry and keep up-to-date on the latest developments. Sign-up ť