This one puts a genuine smile on my face, folks. It seems that the latest leaked OS upgrade for the BlackBerry Storm 95xx, v4.7.0.90, includes a new feature that lets owners activate a full QWERTY virtual keyboard while their devices are in portrait (vertical) mode. More importantly, you can now deactivate the frustrating SureType keyboard that normally appears when the device is held upright while typing.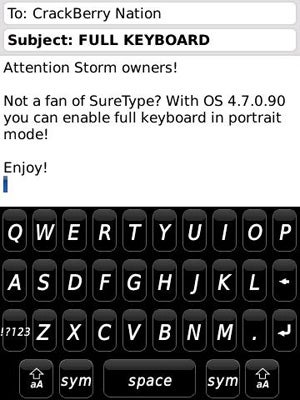 SureType keyboards have multiple letters/numerals/etc. on single keys. Users employ them by hitting the buttons with the appropriate characters and hoping the associated text-prediction software delivers the correct word. The system works well enough for common words (house, baseball, BlackBerry, etc.), but as soon as you try typing a less frequently-used term or a proper noun (last names like "Sacco," for example) the software starts spewing possible words that it recognizes instead of the one you want. SureType is "intelligent" in that it remembers words that you type repeatedly and suggests them the next time it think you want one, but I've never had the time—or the patience—to use the device enough for it to really work for me.
I've long complained about RIM's SureType keyboards—in fact, I recently used its existence on the Storm as a reason why smartphone buyers might want to go the way of the iPhone. But it looks like RIM's developers have heard my pleas, and the complaints of others, and offered us an olive branch in the form of a full QWERTY, portrait keyboard for the Storm.
One possible concern about the new full QWERTY portrait keyboard on the Storm is size; when the device is held upright, the horizontal screen space is minimal and it could be difficult to type on a virtual keyboard with such small keys. But what's really nice about the new Storm OS is that it gives you the options of using either the SureType keyboard or the full virtual one while the device is in portrait mode, so you can pick which works best for you.
I haven't had a chance to install the new OS on the Storm yet, but I plan to shortly. If there are any major changes, I'll be sure to note them here. I have, however, heard rumblings about a possible camera-related bug in 4.7.0.90, so you may want to hold off for a while if you couldn't deal with a misbehaving shutter.
Download BlackBerry Storm OS v4.7.0.90 (Install at your own risk)
AS
FREE CIO BlackBerry Newsletter
Get better use out of your BlackBerry and keep up-to-date on the latest developments. Sign-up ť