Earlier this week, I showed you the first image of Australian-electronics-maker BlueAnt's upcoming Q1 Bluetooth headset, which is expected to become available in the United States in mid-2009. As promised, here are some technical specifications on the cool new gadget, along with a couple images of the BlueAnt Q1 in the fles…err, plastic?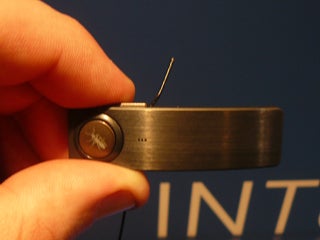 Key Features:
Patent-pending acoustic design virtually eliminates wind and road noise
Dual Microphone Wind Noise Reduction / Echo Cancelling
Voice Control uses the BlueGenie Natural Voice Interface
Custom-designed Digital Signal Processing software makes conversations crystal clear
Automatic pairing and reconnection to your phone with notification
Handles wind speeds up to 10 mph
Receive Processing for Headset User
Automatic Volume Control
Dynamic Receive Signal Frequency Equalization
Packet Loss Concealment
Multipoint Technology – Connect two phones at once
2 Year Replacement Warranty
Specifications:
Product Type: Mono Headset
Form Factor: Over Ear or In Ear (removable ear clip)
Dimensions: 55 X 16 X 7 mm
BT Version: 2.1 + EDR
HFP Version: 1.5
HSP Version: 1.1
Talk Time: Up to 5 hours of talk time and 120 hours standby time
Standby Time: Up to 300hrs
Chipset: Qualcomm/BTS5045
BlueAnt Q1 Bluetooth Headset (top view)
I've got to say, I'm impressed with the Q1, and not just for its noteworthy feature set—it's darn good lookin' and is a great size and shape. My personal favorite Bluetooth headsets are the BlueAnt V1 and the Jawbone II from Aliph; I love the V1's functionality and the Jawbone's aesthetics. Fortunately for me, the new Q1 has all the features of the Z1 and more, and it looks very similar to the Jawbone.
BlueAnt is pricing the headset at $129.99, but you can expect retailers to drop that price a bit shortly after launch. The Q1 still isn't listed on the company's website, but I imagine it will be shortly.
AS