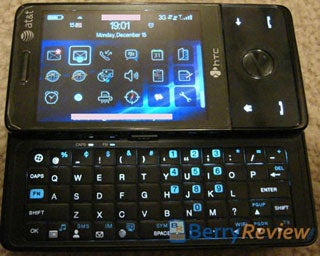 Today the same site that offered up the photos has posted a video as further proof that the shots are not part of some elaborate ruse.
The "BlackBerry virtualization" is possible due to an upcoming software offering from RIM called the BlackBerry Application Suite—not to be confused with the BlackBerry Application Center–according to BerryReview.com. The BlackBerry Application Suite will reportedly replace the aging BlackBerry Connect service, which enables organizations with non-BlackBerry devices to connect users to either BlackBerry Internet Service (BIS) or a BlackBerry Enterprise Server (BES) to utilize RIM's renowned "push" technology and boost security.
The video quality is quite poor and it's hard to make out any specific details, but it does further substantiate claims that the BlackBerry Application Suite does indeed exist and that it may be coming in the near future. The clip also shows the BlackBerry OS boot process, and RIM fans will quickly notice the BlackBerry OS 4.6/4.7 clock progress icon that appears on screen during startup. (Note: The first minute and a half of video shows nothing but this blank startup screen, and there's no audio that I could find, so you may want to skip ahead a bit.)
BlackBerry Application Suite
For more on the BlackBerry Application Suite, read "BlackBerry Virtualization: RIM OS Spotted on Windows Mobile."
AS
FREE CIO BlackBerry Newsletter
Get better use out of your BlackBerry and keep up-to-date on the latest developments. Sign-up ť
Al Sacco was a journalist, blogger and editor who covers the fast-paced mobile beat for CIO.com and IDG Enterprise, with a focus on wearable tech, smartphones and tablet PCs. Al managed CIO.com writers and contributors, covered news, and shared insightful expert analysis of key industry happenings. He also wrote a wide variety of tutorials and how-tos to help readers get the most out of their gadgets, and regularly offered up recommendations on software for a number of mobile platforms. Al resides in Boston and is a passionate reader, traveler, beer lover, film buff and Red Sox fan.