At CIO.com, we hear the term "virtualization" very frequently. To say it's a "buzz word," would be an understatement. But it's the rare occurrence in which the words "virtualization" and "BlackBerry" are spoken—or written—in the same context. That's why I got so excited this morning when I came across some new screen shots of a Windows Mobile-powered HTC Fuze running what appears to be the BlackBerry OS.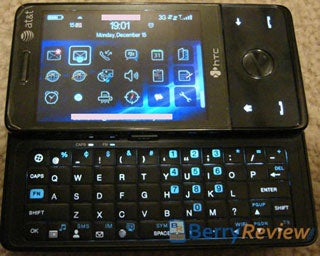 BerryReview.com posted the screenshots this morning, and though the site seems to have mistaken the HTC Fuze for an HTC Touch Pro, the screenshots appear to be legit—unlike a certain iPhone virtualization rumor you may remember.
Apparently, the device is running the new BlackBerry Application Suite—not to be confused with the BlackBerry App Center–which will replace the long-in-the-tooth BlackBerry Connect service. BlackBerry Connect lets organizations with non-BlackBerry devices connect users to either BlackBerry Internet Service (BIS) or a BlackBerry Enterprise Server (BES) to utilize RIM's renowned "push" technology and boost security.
The BlackBerry Application Suite is running on the HTC Fuze just as a normal app would, "virtualizing" the BlackBerry OS in the process, according to BerryReview.com.
Users of the service will also presumably be able to run BlackBerry-specific applications on non-RIM devices.
The OS shown in the photos resembles the new BlackBerry handheld OS v4.6, which is shipping with RIM's latest devices like the Pearl Flip 8220, Curve 8900 and Bold 9000. However, BerryReview.com suggests that the BlackBerry Application Suite will have all of the features of an earlier OS, v4.2. All of the icons and menu styles seem closer to OS 4.6 to me, but I can't be sure until more details emerge.
It's unclear when exactly RIM will release the BlackBerry Application Suite—the company originally said it would be released in 2007–but it will likely be sooner rather than later since screen shots are now starting to leak.
On a related note, software vendor Citrix plans to bring desktop virtualization to the iPhone in 2009, so both PC and Mac users will be able to access the same desktop session on their Apple handhelds as they would on their desktop computers, as well as move seamlessly between the two.
AS
FREE CIO BlackBerry Newsletter
Get better use out of your BlackBerry and keep up-to-date on the latest developments. Sign-up ť