On Monday, Sprint Nextel began selling Research In Motion's (RIM) latest smartphone, the BlackBerry Curve 8350i, a revamped version of the Curve 8300 built specifically for the Nextel iDEN network and Sprint's push-to-talk service. While the device is impressive, it's no Storm, Bold or, some may argue, even a Pearl 8220 Flip. So with Verizon Wireless, AT&T and T-Mobile all getting first dibs on RIM's newest product lines, why is Sprint only just now getting a new version of the old Curve?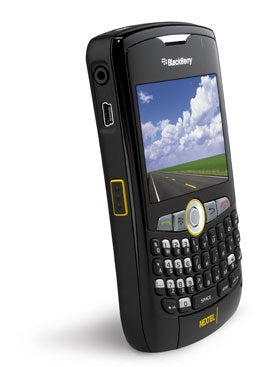 Even though the Curve 8350i is brand new, it looks exactly like its 83xx brethren—with the exception of a little extra bulk, some yellow trim and a few minor design tweaks. Inside, though, that's another story. The Curve 8350i's packing a variety of Sprint-specific services, including Group Connect, which lets users instantly set up group conversations with up to 20 participants, and push-to-talk (chirp, chirp), as well as both GPS and Wi-Fi—a first for the Curve 83xx family.
Perhaps the strangest thing about the Curve 8350i is that it's not a part of the new Curve 8900 family, which RIM started rolling out last month, in Germany. The Curve 8900 is also currently available in Canada and other locales, and it's expected to hit the United States early next year. So, Sprint is now releasing a new BlackBerry Curve that's part of the old Curve family, even though the new 8900 Curve devices are already hitting retail stores.
From where I'm standing, that just doesn't add up. One can only reason that Sprint contracted RIM to create the device while the Curve 83xx was still fresh, and the creation process took longer than expected.
So is Sprint getting the short end of RIM's stick? The quick and dirty answer to that question's simple: Yes.
While, Sprint can count on companies that already employ the carrier's network for mission-critical push-to-talk services to upgrade some of their devices to the new Curve, I honestly don't see too many organizations inking new deals with Sprint specifically for the device. Nor do I think may consumers will be upgrading to the Curve 8350i with the 8900 series, Bold, Storm and Flip all vying for their attention.
It's true that Sprint doesn't currently offer any of these other RIM handsets, and customers may be unwilling to break contracts and switch carriers just to get one, but those same users won't likely upgrade to a new device that's not really, well, new unless their contracts are up anyway. ( I wouldn't.) And if that's the case, why not just make the switch to another carrier that is offering the latest and greatest devices?
Now, it's worth noting that there are probably good reasons why AT&T, Verizon and T-Mobile all got the rights to the latest addition's to RIM's family and Sprint didn't, and those reasons likely have to do with zeros–AT&T, Verizon and T-Mobile were probably willing to add more of them to the end of their monetary offers.
But Sprint is still selling a device that feels about as new as my 1995 Toyota Corolla, and that can't be good for business. Especially when it's selling for $149.99 after rebates and savings and with a two-year service contract—just $50 less than the Storm, RIM's most anticipated BlackBerry ever.
What's your take? Would you buy a Curve 8350i even though the Curve 8900, Bold, Storm and Pearl Flip are all available to you? And if not, should Sprint dedicate a larger investment to securing new devices so they're not left with out in the cold with other carrier's scraps?
AS
FREE CIO BlackBerry Newsletter
Get better use out of your BlackBerry and keep up-to-date on the latest developments. Sign-up ť