While performing a review of the new BlackBerry Pearl 8220 Flip from Research In Motion (RIM), I discovered that the device's operating system, BlackBerry handheld OS v4.6.0.151, has a "hidden" feature called Safe Mode that can help users isolate and eliminate problem third-party applications.
.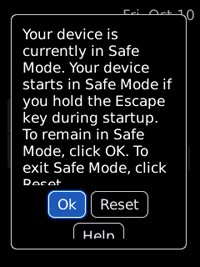 T-Mobile will begin selling the Pearl 8220 in the United States on October 13, and it'll be the first U.S. BlackBerry to run RIM's latest handheld OS, v4.6.
BlackBerry Safe Mode appears to be available to users of all RIM's new BlackBerry devices with OS v4.6. That includes the Bold 9000, Pearl 8220 and the as-of-yet unreleased Curve 8900. It's unclear whether the touch screen BlackBerry Storm 95xx, which will run BlackBerry OS v4.7, has Safe Mode as well, but it seems likely.
Safe Mode is meant to help pinpoint and delete bum apps that may have caused your smartphone to crash. For example, if you decide to download some fancy new mobile RSS reader, but soon after you do, your 'Berry starts acting all wonky and eventually crashes, you'd want to reboot in Safe Mode so you could delete the app without it wreaking havoc on your device again.
Accessing Safe Mode is simple: First you need to remove your BlackBerry battery to perform a hard reset. After reinserting the battery, the BlackBerry notification LED glows red for a few seconds. Immediately after the LED dims, hold the BlackBerry Escape key—to the right of the trackball—until a dialogue box appears to let you know the device is running in Safe Mode. The reboot process can take a few minutes, so be patient.
To exit Safe Mode, simply perform another hard reset by removing and reinstalling your battery.
AS
FREE CIO BlackBerry Newsletter
Get better use out of your BlackBerry and keep up-to-date on the latest developments. Sign-up ť