BlackBerry maker Research In Motion (RIM) on Wednesday decided to end the month-long Verizon Wireless leakfest marketing fiasco surrounding the world's first touch screen BlackBerry, the Storm 95xx, by officially acknowledging the device. Praise the heavens. All those blurry videos and unfocused images from the sieve that is Verizon had my patience wearing thin…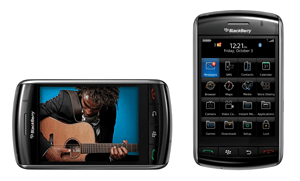 Anywho, though the announcement is big in BlackBerry-land, there's really not much "news" to report. RIM did launch its official BlackBerry touch website, but if you've read my BlackBerry Storm roundup, you already know the Verizon Storm's full technical specifications; you've seen both video and images of the BlackBerry touch in action; and you're aware that Verizon Wireless and Vodafone will be the first carriers to get the device–Verizon in the United States, Vodafone in Europe, India, Australia and New Zealand. You also know that the Verizon Storm is expected "in time for the holidays," and that hasn't changed; neither RIM nor Verizon has set a concrete date for when the BlackBerry touch will hit retail shelves.
Thankfully, with today's announcement came a couple of quality BlackBerry Storm 9530 reviews. And some new (clear!) images from RIM instead of some herky-jerky digital-cameraman.
We also now know that the good folks north of the U.S. border will be getting the Storm. Canadian carrier Telus was first to announce that it will soon begin selling the touch screen BlackBerry and Bell will also reportedly offer the device—though the BlackBerry touch will be "exclusive to Telus at launch," according to the company.
Now that the BlackBerry Storm 95xx is official, I'm left with three nagging questions. The first is the big one: How well will that funky, new fangled touch screen actually work for power users? Secondly, why no Wi-Fi? (I'm guessing Verizon's to blame, as none of their BlackBerry handsets support Wi-Fi.) And finally, will the United States see the BlackBerry Storm on Verizon before the AT&T Bold, even though the Bold was unveiled five months earlier and is already available in countries like Bahrain?
AS
FREE CIO BlackBerry Newsletter
Get better use out of your BlackBerry and keep up-to-date on the latest developments. Sign-up ť