Research In Motion (RIM) BlackBerrys. Twitter. Free mobile applications. These are a few of my favorite things. What's even better? Why, a combination of all three, of course.
That's exactly what you get in TwitterBerry, a free mobile Twitter client for BlackBerry from Orangatame Software. TwitterBerry's not new—in fact, we've reviewed, demonstrated and recommended the software on various occasions—but today, a new beta version of the app hit the Web, TwitterBerry 0.7 beta 4. The latest tweaks and modifications address a number of my long-standing complaints and add some truly valuable features.
I was appropriately notified of this new beta release via Twitter, after communicating earlier this week with Jason Schroeder, a TwitterBerry developer.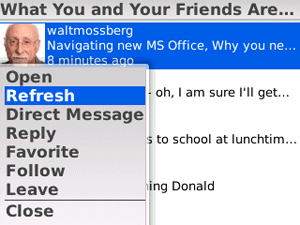 Included in the release are two changes in particular that will surely make TwitterBerry easier to use and more efficient. First of all, the new software lets you refresh the Friends Timeline, your personal timeline, replies and direct messages without ever leaving those individual screens. In previous versions of TwitterBerry, users had to return to the application's home screen to refresh any timelines. The new modification makes it quicker and easier to fetch new tweets or messages.
Secondly, Orangatame has added the ability to set TwitterBerry notification alerts. So, for instance, users can set their BlackBerry LED indicators to flash red whenever their Friends tweet or new Twitter direct messages land in their inboxes. Vibration alerts and custom tones can also be enabled by tweaking the application's BlackBerry Profile settings. (To modify TwitterBerry Profile settings, click the Profiles icon your BlackBerry home screen, scroll down and select Advanced. Then highlight the active profile, hit your BlackBerry Menu key and choose Edit. Finally, you should scroll down and click either TwitterBerry Direct Messages or TwitterBerry Friends Timeline, click the trackball and make whatever changes you desire.
I haven't spent more than an hour or so with the new TwitterBerry app, but so far the experience has been a positive one. However, the software is still a beta release and isn't perfect. For instance, I can't seem to access the Twitter Public Timeline—the app just tells me it's loading.
According to Orangatame, additional new TwitterBerry features include:
Polling support, accessible from the Options menu (I couldn't find any Options menu…)

Cache more tweets. Caching up to 200 of the latest tweets in your friends timeline, replies timeline, and direct messages.

Reload timelines from the screen, without opening and closing

Improved network requests, only loading new tweets since last request

Multiple bug fixes

TwitPic support. Look for the 'Send to TwitPic' menu in the Media application when viewing images. (I also didn't see any such menu option in my BlackBerry Media app…)
The beta application's available for any BlackBerry device running handheld operating system v4.1.0 and higher. And Orangatame is welcoming feedback.
AS
FREE CIO BlackBerry Newsletter
Get better use out of your BlackBerry and keep up-to-date on the latest developments. Sign-up ť