This blog entry could easily have been a rant about Verizon Wireless's obnoxious experimental marketing antics—how can so much information just leak? But instead, I decided to channel my pent up frustration into a more productive post that collects all the various BlackBerry touch fodder for all you folks who haven't had the time, or patience, to follow this "story" as closely as I have.
Since I last blogged about this elusive device—I first wrote of a touch screen BlackBerry almost a year ago–we've seen just about everything but an official announcement from either RIM or Verizon Wireless. (Note: You can expect to see an announcement directly from RIM first, at least if the company sticks to tradition; RIM announced the new BlackBerry Bold 9000 smartphone at the Wireless Enterprise Symposium (WES) 2008 and the BlackBerry Pearl 8220 flip phone at CTIA Fall 2008, both before any related carrier announcements.)
Here's a quick roundup of what we know about the RIM touch screen BlackBerry Storm 9530 from Verizon Wireless:
First of all, though Verizon hasn't yet announced—or even admitted—the existence of the device, the wireless carrier has posted a page on its website for interested parties to sign up for e-mail updates. That page was launched some time early last week, and not long after it went live, Germany's Vodafone also posted a similar updates page—"Das BlackBerry Storm"—making it the second carrier in the world to hint that it will carry the new touch screen BlackBerry.
Then we saw the purported "final" technical specifications for the device show up in a BlackBerry forum, confirming many specs that had been rumored–like the fact that the device is a "world phone" and can operate on both CDMA/EVDO and GSM/GPRS/EDGE networks—and shooting down others—the touch screen BlackBerry is not Wi-Fi enabled, for example. Oh yeah, the device will also come in a GSM-specific flavor, the BlackBerry 9500.
Next, a set of screen shots of the new Vodafone device's operating system hit the Web, though some bloggers and others questioned their authenticity. (The first images of the touch screen BlackBerry Storm's operating system were posted in early July, but they showed only the device's virtual keyboard.)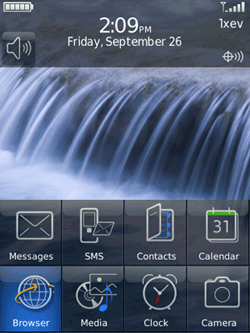 And just a couple of days later, another group of (more believable) BlackBerry Storm operating system shots surfaced, giving us a peek at the new device's SureType keyboard and mail options, as well as the home screen and display/keyboard options.
Finally, a number of BlackBerry blogs and websites are reporting this morning that RIM has distributed an official touch screen BlackBerry Storm announcement to its business partners via its PartnerZone. The announcement doesn't include too much in the way of new information, but it does specify that the Storm's operating system, BlackBerry OS v4.7, will include a feature called Compatibility Mode that "provides an operating environment for existing 3rd party applications that are not implemented to support touch." It also suggests an official public announcement can't be far off.
(And as a side note, AT&T, the exclusive U.S. iPhone carriers, is already circulating information to its retail-store-staffers about how to convince customers that the iPhone is better than RIM's touch-screen-rival-Storm.)
That just about sums it up. If you know any more details about the Verizon Wireless BlackBerry Storm, by all means, drop a comment below to let us know. If not, we'll just have to wait until either RIM or Verizon make all this rumor and speculation legit. The next big RIM event on the horizon is the BlackBerry Developer Conference, which is being held in Santa Clara Calif. on October 22 through 25. My money's on an official BlackBerry Storm announcement from RIM on the Sunday before the conference.
AS
FREE CIO BlackBerry Newsletter
Get better use out of your BlackBerry and keep up-to-date on the latest developments. Sign-up ť