Keeping your Research In Motion (RIM) BlackBerry in good health isn't always simple, but the following two new tools can help to diagnose a wide-variety of hardware, software and overall BlackBerry performance issues.
The first utility is built directly into your BlackBerry handheld operating system—assuming you're running a device with handheld OS 4.2 or higher—and it can be used to vet your BlackBerry hardware for potential problem areas and malfunctioning components.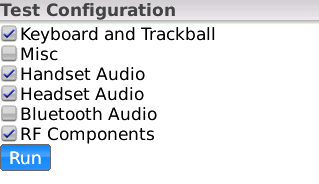 To access the tool, simply open your BlackBerry's Options menu, click Status and key in the letters T-E-S-T. When a blank screen appears, you should click your BlackBerry Menu key again and choose Start from the dropdown options. Next, you'll see a screen with a number of empty check boxes beside options like Keyboard and Trackball, Miscellaneous, Handset Audio, Bluetooth Audio and RF Components. (The miscellaneous option lets you test your keypad's backlight, the LED indicator color options, LCD backlight, vibrator and your in- and out-of-holster settings, among other things.)
To begin an examination, fill in the boxes next to the components you want to test and then click the Run button at the bottom of the list. If your device is running BlackBerry OS 4.2, you'll need to hit the Menu key again and manually select Run.
The subsequent tests consist of a variety of screens with both User Input and Expected Output fields. The User Input field describes the actions required on the part of the user to perform the tests—actions aren't always necessary—and the Expected Output fields contain the summaries of the desired outcomes. There's also a third and final field that display the actual outcomes. If these don't match up with the expected ones, you've located a problem area.
For example, if you wanted to analyze your BlackBerry keyboard's performance, you'd simply fill in the box for Keyboard and Trackball and hit Run. On the following screen, any key you press should result in the corresponding character or action appearing in the actual outcomes field at the bottom of your smartphone's display.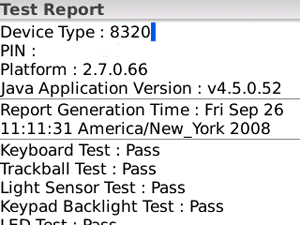 I walked through all the various tests, and minor spelling errors aside—the words "right" and "finished" appear as "rigt" and "finisehd" when testing your trackball—I was impressed with the functionality and glad to see that my BlackBerry has a clean bill of health.
Check out the video below to see the BlackBerry vibrator test in action.
BlackBerry Vibration Test
A second tool you can use to help gauge your BlackBerry's performance and locate potential problem areas is BoxTone Software's myBoxTone Insight application. I featured this handy—and best of all, free—application in one of my recent best BlackBerry apps articles, and if you haven't already downloaded it, I recommend doing so at your earliest convenience.
Long story short: myBoxTone Insight monitors various BlackBerry performance metrics like wireless signal strength, remaining battery life, available free memory, the number of calls placed and the duration of each call. The free app then takes all those metrics and graphs them over different time periods—one hour, twelve hours, one day, etc.—so trends can be spotted.
Check out "Free BlackBerry Apps: Five Can't Miss Software Downloads" for more on myBoxTone Insight.
While neither tool provides much assistance in fixing any issues you may uncover, both can be invaluable in determining the underlying causes behind misbehaving BlackBerrys. And you know what They say: Knowing is half the battle…
AS
FREE CIO BlackBerry Newsletter
Get better use out of your BlackBerry and keep up-to-date on the latest developments. Sign-up ť