Pinch yourself BlackBerry addicts: Research In Motion's (RIM) touch screen BlackBerry Storm has been confirmed.
To put it mildly, today's a big day in BlackBerry land.
The past week has been a significant one for Research In Motion (RIM) and its millions of BlackBerry customers, with the introduction of the first BlackBerry flip phone, the Pearl 8220, as well as a number of shiny new BlackBerry "lifestyle" applications.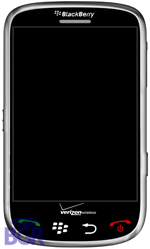 The news today, however, takes the cake: Thanks to some leaked Verizon Wireless vendor literature, the long-rumored and much-anticipated touch screen BlackBerry, which we now know will be called the BlackBerry Storm–at least on Verizon–has finally been officially confirmed, along with a number of technical specifications…sort of.
Apparently, some Verizon Wireless employees were notified of the device's existence today, and were given the literature on how to deal with curious customers looking for more information on the touch screen BlackBerry Storm and when they'll be able to buy it. Neither RIM nor Verizon has announced the device to the public just yet, but you can bet that'll change very soon.
I've been blogging about a potential touch screen BlackBerry since last year when the initial rumors of such a device started bouncing around the Internet, and I have to admit, this one's got me excited–my thumbs are actually beginning to twitch.
Unfortunately, we still don't know too much about the touch screen BlackBerry Storm's release date and pricing details, though rumors suggest the new smartphone will hit the United States in October, just in time for the holiday season, exclusively on Verizon Wireless.
The internal Verizon communication also confirmed a number of tech specs, including the fact that the device will be a "world phone" (quad band CDMA and GSM); it'll feature a 3.2 megapixel camera—the highest quality camera on any BlackBerry to date–with video capture; it will have Verizon's Visual Voice Mail; the VZ Navigator (Verizon's proprietary GPS); and the highest-resolution display on any current BlackBerry device—including the high-end BlackBerry Bold 9000.
It'll also be a 3G smartphone in the United States using Verizon Wireless's CDMA network, though it doesn't appear to have Wi-Fi, as was initially suggested by bloggers.
And perhaps most notably, the touch screen BlackBerry Storm will have a unique virtual keyboard that requires users to not only touch the device's screen to hit specific keys, but "click" it by applying addition pressure to each button. This feature is no-doubt RIM's attempt to address the common compliant from iPhone users and others that touch screens don't provide tactile feedback, and therefore, don't lend themselves to rapid typing as well as physical QWERTY keyboards—though one initial impression of the BlackBerry Storm keyboard was less than stellar.
With all this juicy information out in the open, it only makes sense for RIM and Verizon to make an official announcement, so you can expect to know even more about the Verizon Wireless BlackBerry Storm in the coming days.
Until then, check out some new images of the first touch screen BlackBerry.
AS
Verizon Wireless Touch Screen BlackBerry Storm