QuickBooks Online is a Web-based accounting service for small businesses that offers 24/7 access to financial information, including reports on the money coming in and going out, customer balances, as well as real-time book sharing with accountants and staffers and invoice creation functionality. There are currently about 130,000 small businesses that subscribe to QuickBooks Online, making for some 340,000 actual users.
As of Monday, QuickBooks Online subscribers can use their BlackBerry and iPhone smartphones to check current bank and credit card balances; keep tabs on who owes them money and who they owe; lookup customer and supplier contact information along with graphics from Google Maps; and access to balance sheets with profit and loss reports, Intuit says.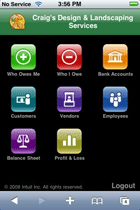 Monthly QuickBooks Online subscriptions start at $9.95 per month, and the BlackBerry and iPhone applications are free to subscribers. Both apps are currently in beta, or test, stages, and they can be found on Intuit's "early concept release site," IntuitLabs.com. The company is also welcoming user feedback, which can be submitted directly through the new apps.
"Our goal with these new mobile services it to give QuickBooks Online user the edge they need to compete and manager their busy lives by keeping tabs on their business even when they're out of the office," said Rick Jensen, Intuit Small Business Division senior vice president, in a statement.
For more related mobile applications for both BlackBerry and iPhone—many of which are free–read "50 Mobile Finance Apps for BlackBerry and iPhone."
AS
FREE CIO BlackBerry Newsletter
Get better use out of your BlackBerry and keep up-to-date on the latest developments. Sign-up ť
Al Sacco was a journalist, blogger and editor who covers the fast-paced mobile beat for CIO.com and IDG Enterprise, with a focus on wearable tech, smartphones and tablet PCs. Al managed CIO.com writers and contributors, covered news, and shared insightful expert analysis of key industry happenings. He also wrote a wide variety of tutorials and how-tos to help readers get the most out of their gadgets, and regularly offered up recommendations on software for a number of mobile platforms. Al resides in Boston and is a passionate reader, traveler, beer lover, film buff and Red Sox fan.