Somebody over at Palm apparently got a bit anxious this week and posted on the company's site—albeit very briefly—a few images and technical specifications on an unannounced Treo device, which Palm is calling the Treo Pro.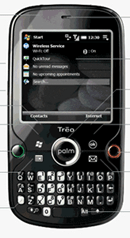 The first live image of Palm's newest Treo smartphone surfaced on the Internet in mid-May, and it was assumed to be called the Treo 850, due to Palm's past Treo naming convention that tied a three digit number onto the end of each Treo name, i.e., the Treo 700 and Treo 750.
Since that time, tech specs on the new smartphone also hit the Web, and according to the now-removed Treo Pro page on Palm's site, many of the rumored features were accurate. For example, the Treo Pro will run on Windows Mobile, it has a touch screen—and stylus–Wi-Fi, and a micro USB port for charging and syncing data, among other features. It's also supposed to be a 3G GSM device (UMTS/HSDPA), and will compete directly with the upcoming BlackBerry Bold and iPhone 3G.
As far as aesthetics go, the Treo Pro looks very much like a combination of Palm's popular consumer-oriented-smartphone, the Centro, and its recently released Treo 800w device. It's difficult to determine the exact size of the Treo Pro from the new images, but based on the reported dimensions of its display—320×320, the same size as the Treo 800w's screen–I'd guess it's about the same size as the latter.
Palm has been struggling in recent days to keep up with such smartphone powerhouses as Research In Motion (RIM), the BlackBerry maker, and Apple, the leading U.S. smartphone vendors based on sales. Though 2007 was a particularly tough year for the Sunnyvale, Calif.-based handset maker, 2008 is seeing Palm slowly get back on track with impressive Centro sales and the introduction of the new, sleek Treo 800w device.
It's worth noting, however, that a Palm OS-based Treo is conspicuously absent from Palm's new lineup. It's been more than five years since Palm last updated its own OS, and it's an understatement to say it's about time the company changed that.
I've got to say, I'm intrigued by the Treo Pro, and I'm looking forward to getting my hands on the device, even though Palm hasn't even really confirmed its existence, let alone set an estimated released date. I just hope I'm able to do so, as the last time I got this excited about a "pro" version of an existing smartphone the company discontinued the product shortly after promising me a review unit…
AS
Al Sacco was a journalist, blogger and editor who covers the fast-paced mobile beat for CIO.com and IDG Enterprise, with a focus on wearable tech, smartphones and tablet PCs. Al managed CIO.com writers and contributors, covered news, and shared insightful expert analysis of key industry happenings. He also wrote a wide variety of tutorials and how-tos to help readers get the most out of their gadgets, and regularly offered up recommendations on software for a number of mobile platforms. Al resides in Boston and is a passionate reader, traveler, beer lover, film buff and Red Sox fan.