It's true, the BlackBerry Bold and the iPhone 3G have a bunch of cool new functionality beyond the faster data connections–buff processors, GPS, Wi-Fi, etc.–but 3G/UMTS/HSDPA support is clearly the feature both RIM and Apple want to come to mind first when you think of their new wares—"Fast Performance" is the first option on RIM's Bold Features page and Apple even included the term "3G" in the name of its new handheld.
In the past, I've reviewed a variety of smartphones for CIO.com, along with a number of IT executives, and only one of those devices had 3G: The Palm Treo 750. It is worth noting that my last such review was more a year ago, and there were fewer business-quality devices with 3G on the market. But even so, only one CIO complained about a lack of 3G: Hugh Scott, VP of IS for the wholesale business unit of Direct Energy.
Scott reviewed the first-generation iPhone for CIO.com last fall, and his response to questions about why he wanted 3G and what he'd do with it is particularly telling:
"To be completely honest, I don't really know, but that doesn't mean I don't want the fastest phone possible. I am sure I could find something!" Scott wrote.
Funny, right? But the truly amusing thing is that I completely relate to his sentiment.
I'm currently using a BlackBerry Curve 8320 as my business and personal device. This smartphone uses an EDGE data connection with average download speeds of 100Kbps, though it also has Wi-Fi, which, when available, can be faster. The new BlackBerry Bold and the iPhone 3G can connect to UMTS/HSDPA networks, which offer average download speeds of 700Kbps. I complain occasionally about the speed of my EDGE connection–usually while trying to stream video, which would be MUCH less frustrating with a 3G phone–but in reality, it works for me. It works, and the device itself is in pristine condition, but I'm still contemplating whether or not to rush out and buy the BlackBerry Bold as soon as it's released later this year. I'll even have to switch carriers from T-Mobile to AT&T, but that's a distinct possibility because, like Scott, I want the fastest, most powerful device on the market. I know it's silly when you think of it that way, but it's true just the same. And I bet more than a few of you can relate.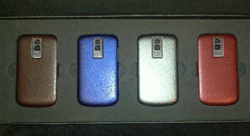 A while back, I blogged about AT&T CEO Randall Stephenson's statement that a 3G iPhone would be coming in 2008. I wrote about how such a development would make the iPhone more "business-friendly" because organizations will increasingly require smartphones that can process large amounts of data and rapidly transfer it back and forth between corporate systems. I still think that's true, but I wondering how important 3G is, to both businesses and consumers, right now.
I've profiled a number of companies in recent days that are using various mobile business applications for CRM, ERP, field service and support and more. And none of them told me 3G was a requirement for their corporate
smartphones. Plus, AT&T is the only major carrier with any semblance of a widespread HSDPA network in the United States—T-Mobile only recently launched its 3G network in New York City—so your carrier selection and wireless availability is greatly hindered if you go the 3G route.
So I'm asking you, from a business perspective, just how important is 3G? If you were in charge of a large-scale smartphone deployment, would the lack of 3G be a deal breaker? Why or why not? What are some benefits of using 3G devices in the enterprise?
And for you consumers out there, will you be upgrading your current BlackBerry or iPhone with the new, faster, shinier, more powerful models? Why?
AS