Scenario: You're visiting San Francisco on business, but have a free night off to spend exploring the city. You've got your Zagat guide and a local search app on the BlackBerry to help find the Bay Area's most popular hotspots. But how do you decide whether to head on over to the Mission, Soma or North Beach? You fire up a new, free BlackBerry download called Citysense, that's how.
Citysense is a social navigation application from Sense Networks that uses historical and real-time location data from mobile devices like smartphones and GPS systems to show cities' busiest nightlife spots. Sense Networks has already been using its Macrosense software platform to help companies, investors and others spot emerging trends in consumer behavior, but Citysense brings the value of its location based services (LBS) into the hands of those consumers.
"Just as Google indexed pages on the Internet to optimize web discovery, Sense Networks has indexed the real places in a city and characterized them by activity, versus proximity or demographics, to better understand the context of consumers' offline behavior," says Tony Jebara, Chief Scientist, co-founder of Sense Networks, in a statement.
The map-based application can show a city's nine busiest locations using a color-coded scale, with red being the most popular. It also displays a relative "busy" rating to indicate whether users' cities are busier or more calm than usual. And a single click on a specific area opens up a directory of nearby nightlife activities and establishments from Yelp and Google. The app also has a "Super-Dynamic Alarm for the Morning After," to alert you on mornings when your city is particularly busy to make sure you get to the airport in time to catch your flight.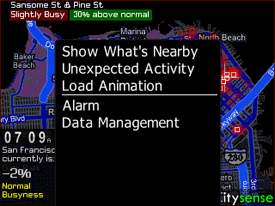 According to Sense Network, all the location data that it gathers from mobile phones, GPS and Wi-Fi is completely anonymous so privacy should not be an issue. Individual user data is aggregated, but the company says it never shares location information, doesn't ask for a password, e-mail address or phone number, and there's an option within Citysense to delete all stored information from your device at any time you please.
Though the Citysense is still in the alpha stages of software testing and works only in San Francisco, BlackBerry users can download the app over the air. And Sense Networks plans to release a version that works in other major cities in the future, as well as a version for iPhone users. (The iPhone app is expected to become available when Apple's smartphone App Store opens later this year.)
Eventually, the company says Citysense will be able to "learn" your nightlife preferences and point you in the direction of like-minded others, so if for instance, you live in Boston but are travelling to Chicago, the app will direct you a Windy City bar or club packed with people who frequent locales similar to your favorite hangouts.
Gone are the days of wondering an unfamiliar city in search of solace only find yourself in a bar with unfriendly faces—as long as you've got a smartphone and cab fare, of course. Now the only problem's getting through the lines and in the door…
AS