BlackBerry-maker Research In Motion (RIM) upped its dominance in the U.S. smartphone space during the first quarter of 2008, while Apple and its iPhone lost ground, according to a new report from IDC. But the market research firm's findings must be considered in context, alongside a number of significant related factors.
IDC says RIM took 44.5 percent of the U.S. market for smartphones in the first quarter of this year; that's up almost ten percentage points from the previous quarter's 35.1 percent share, according to news reports.
But while RIM gained ground, Apple fell further behind the handheld giant with just 19.2 percent of the U.S. market in Q1 2008, compared to the 26.7 percent the iPhone-maker held in the fourth quarter of last year, IDC found.
On a global scale, the story's much the same, with the exception of the fact that Nokia is the clear smartphone leader, according to research firm Canalys. RIM and Apple hold the second and third spots, respectively.
It's worth nothing, however, that despite the gap in market share between the two, Apple is proving to be a legitimate RIM rival–and after only a year since the iPhone's debut. (Longtime RIM rivals like Palm and HTC were left in Apple's wake.)
Furthermore, Apple currently offers only one smartphone, which makes up for all of its market share, while RIM offers a wide variety of different smartphone product lines and separate models with each lineup. For instance, RIM's popular BlackBerry Curve, which is part of its 8000 series of smartphones, is available in four different models: the 8300, 8310, 8320 and 8330, all of which have slightly different feature sets. It makes sense for RIM to have an edge in market share for no other reason than the sheer number of devices it offers. Should Apple decide to release different version of the iPhone, which could cater to users with different needs, RIM's dominance in the space would surely take a hit.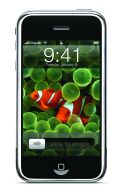 As for Apple's market losses in the beginning of 2008, the drop could have to do with the fact that the final quarter of 2007 included the busy holiday shopping season. Since the iPhone is one of the "must-have" technology toys and it's a more consumer-oriented device than the majority of BlackBerrys, the device was probably "gifted" more than RIM's smartphone. This would've provided Apple with a nice sales boost. You can expect to see an even more impressive fourth quarter for Apple in 2008.
And with the next-generation iPhone expected this month, it's a safe bet that Apple will see market share increases in the current and upcoming quarters. Fruits of the iPhone software development kit (SDK) are also expected over the coming months, which will serve to make the device more attractive to both consumers and enterprises—RIM's core customer base—and lead to more iPhone sales.
So though BlackBerry may be in the driver's seat today, you'll likely see Apple closing the gap even further in the near future.
AS
Al Sacco was a journalist, blogger and editor who covers the fast-paced mobile beat for CIO.com and IDG Enterprise, with a focus on wearable tech, smartphones and tablet PCs. Al managed CIO.com writers and contributors, covered news, and shared insightful expert analysis of key industry happenings. He also wrote a wide variety of tutorials and how-tos to help readers get the most out of their gadgets, and regularly offered up recommendations on software for a number of mobile platforms. Al resides in Boston and is a passionate reader, traveler, beer lover, film buff and Red Sox fan.