Research In Motion (RIM) finally unveiled its new smartphone on Monday, dubbed the BlackBerry Bold, and the company set up a booth at its annual Wireless Enterprise Symposium (WES) in Orlando, Fla., so attendees like myself could check out the new wares. Of all the 100 or so exhibits set up throughout the conference hall and the vendors' solutions showcase, no line was longer than the one in front of the Bold display.
Luckily, I didn't have to wait in any lines to get my hands on the Bold. Just about every RIM representative at the show had the new device, especially the PR folks, and one of them was nice enough to let me get some alone time with it in the press room. (Thanks Tenille!)
I've been writing about RIM's next-gen BlackBerry for months—rumors, first images, early reviews of a Bold mysteriously obtained from eBay—and it seems only fitting that I collect my initial impressions of the device in this post, along with some interesting details I got from RIM staffers and even the company' co-CEO Mike Lazaridis himself. So here goes.
Initial Impressions: Love at First Sight
The first thing I noticed when looking at the Bold is its vivid and crisp display. The 480 x 320 pixel (half VGA resolution) screen is simply beautiful, especially when viewing images or watching video. According to RIM, the name Bold came from the initial reactions early viewers had when shown the device. As in, "Wow! That's bold." And it is.
Secondly, the new keyboard design is very impressive. I've used a number of Pearl, Curve and 8800 devices, and the keyboard on the Bold is, in my opinion, easily the best of all. RIM has really done something great here. It looks very much like the 8800 keyboard but feels more like the Curve because of the space you feel between keys. RIM also told me that the keyboard design was inspired by the frets on a guitar's neck, with small upraised edges on the keys to provide more tactile feedback and let you know where one key ends and the other begins.
Also, the Bold is fast. Real fast. It's by far the speediest smartphone I've ever used, with its 3G data connection and 624-Mhz StrongARM processor with full MXX (multimedia extensions). Web pages load in seconds and applications, even large ones like the media player and video recorder, open with little or no delay at all—a vast improvement over current BlackBerry devices.
Finally, the one spec that really caught my eye—in addition to the 3G (UMTS/HSDPA) support, of course—is the 1GB of onboard device memory with 128MB of flash and a microSD slot for external memory. That's a significant increase over earlier BlackBerry devices, and that amount of internal memory could be particularly valuable to CIOs and IT departments who need to store lots of sensitive data on their devices but don't want that information to make its way to memory cards, which can be easily misplaced or stolen.
Overall, I had only two complaints about the Bold: The device is a bit larger than I would've liked—it's slightly bigger than the 8800, which is by no means small–and the fact that RIM didn't give me one on the spot.
Accessories and Pricing
Another perk of hanging out in the WES press room: Access to accessories not available in the Bold display room or anywhere else for that matter. I'm talking about the colored rear
battery covers RIM will offer to let users customize their devices, instead of selling smartphones with colored cases that cannot be exchanged. The covers are made of some form of leather-ish material that RIM claims was specially designed to resist wear and tear.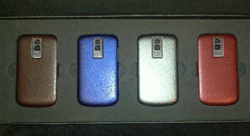 When I sat down at WES with Mike Lazaridis, RIM's president and co-CEO, he had a Bold in a holster on his belt and another in a fancy box on the table between us. When our interview was over, he opened up the box, lifted the Bold out like a newborn child, and asked if I'd seen the colored battery colors, which he informed me were first envisioned by his wife.
The idea is to let you personalize your device by swapping out the battery case based on your mood, outfit or any other deciding factor. Oh yeah, and you'll have to pay for each an every one of them. I couldn't get a price out of RIM, but I'm guessing they'll go for between $20 and $30—cheaper if you get them through unofficial channels, like online mobile accessory stores or Amazon.com. And RIM's also wisely creating a whole new opportunity for accessory makers looking to cash in on the sale of wacky battery covers.
Which leads me to pricing. Tenille Kennedy, the RIM PR woman who let me experiment with her device, told me she couldn't say for sure, but they're expecting the Bold to initially retail for between $300 and $400. To me, that means $399.99. AT&T has the most widespread HSDPA network in the United States, and that coupled with the fact that all the Bold devices I saw in the hands of RIM reps were running on AT&T, suggests the U.S. carrier will indeed be the first to get device. (Rogers will supposedly be first to get it in Canada.) The BlackBerry Bold is expected to be released late this summer.
So those are my first impressions of the BlackBerry Bold. If you were lucky enough to make it to WES, and you had a chance to experiment with the device, let me know your first thoughts. If you didn't make it to WES, what about the images or description of the Bold really catches your eye? I'm all ears…
AS