About eighty-five percent of Apple iPhone users in the United States browsed the mobile Web for some form of news or information during the month of January, making it the single most popular device for accessing mobile Internet content, according to a recent study by mobile market-watchers M:Metrics.
More on the iPhone
Apple iPhone a True RIM BlackBerry Rival in the Enterprise? Not So Fast…
BlackBerry or iPhone: Which Horse Will You Back?
Study: BlackBerrys Dominate Enterprise, But iPhone Users Happiest
Apple Preps iPhone SDK Release: Users Hope for Brawnier Business Apps
It's another sign that Apple's uber device is not only living up to its initial hype—no small feat in itself—but also driving and shaping the future mobile space.
The past month has been exciting for iPhone fans and mobile watchers, with the device making some serious advances in both the consumer and enterprise smartphone markets. First, we saw a study that suggests iPhone business users are significantly happier than enterprise BlackBerry users. A week or so later, Apple released the iPhone software development kit, which promises brawnier third-party apps for consumers and businesses. That same day, the company announced the iPhone will soon get Microsoft Exchange support, addressing the common complaints from iPhone users about the device's lack of secure "push" e-mail and essential enterprise security features such as remote device wipe and password policy enforcement.
The iPhone isn't just winning the mobile news game, according to the M:Metrics study. A larger percentage of iPhone owners watch mobile TV or video and listen to music downloads than any another smartphone users, M:Metrics says. A whopping 30.9 percent of iPhone owners watched TV or video on their devices in January, compared to 14.2 percent of all smartphone users. And 74.1 percent of those Apple handset owners listened to mobile music, while just 27.9 percent of all smartphone users listened to tunes via mobile devices, according to the research.
iPhone users also visit social networking sites the most (49.7 percent), as well as YouTube's mobile site (30.4 percent), M:Metrics says. Only seven percent of all smartphone owners accessed a social networking site and just one percent visited YouTube mobile to watch videos, according to the research. Facebook was the most popular social networking among iPhone users.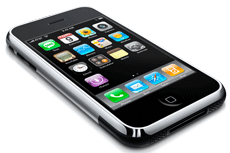 There are a couple of good reasons for those results. First of all, iPhone users have access to specially designed Facebook and YouTube sites. The devices even ship with a YouTube icon on their home screens, so users have immediate access. (BlackBerry users can download a Facebook for BlackBerry app that gives them access to the popular social networking site with a single click from their home screens, so it's likely that BlackBerry users visit that mobile site the second most frequently, though the research doesn't say so.) But the majority of BlackBerrys cannot play YouTube's mobile videos—with the exception of some BlackBerry Pearl devices—so most RIM smartphone users can't watch video content on YouTube.
M:Metrics' report includes responses from 32,262 U.S. mobile subscribers; research was conducted between November 1, 2007 and January 31, 2008. For more details, see the company's website.
AS