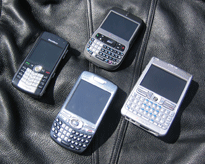 We're curious about which smartphones operating systems your organizations are using right now, and we've built a quick poll to collect answers. We'd also like to know why you chose the OS(s) you did. Is it because BlackBerry offers the most robust and secure environment? Because Windows Mobile devices are easiest to integrate with backend systems from Microsoft? Does the iPhone's innovative user interface outweigh any security concerns?
Drop us a comment beneath the poll and let us know.
AS
Al Sacco was a journalist, blogger and editor who covers the fast-paced mobile beat for CIO.com and IDG Enterprise, with a focus on wearable tech, smartphones and tablet PCs. Al managed CIO.com writers and contributors, covered news, and shared insightful expert analysis of key industry happenings. He also wrote a wide variety of tutorials and how-tos to help readers get the most out of their gadgets, and regularly offered up recommendations on software for a number of mobile platforms. Al resides in Boston and is a passionate reader, traveler, beer lover, film buff and Red Sox fan.