The device is the product of a joint venture between the National Federation of the Blind (NFB) and world-renowned inventor Ray Kurzweil. It enables users to read most documents or other objects with printed text that can be photographed by the smartphone's embedded digital camera. For example, a blind user could employ the gadget to tell the difference between a $20 or $100 dollar bill, or to read restaurant menus and magazine articles.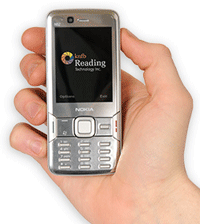 Text-to-speech functionality is nothing new—in fact, Kurzweil is credited with creating the first print-to-speech reading machine for the blind more than 30 years ago—and there are currently larger handheld-readers with the functionality available, but the new device is the first mobile phone that captures images of text and converts them into audio.
The device will be marketed by K-NFB Reading Technology starting in February, and it will retail for about $2,100—$1,595 for the software from Nuance and roughly $500 for the 4.2 ounce Nokia N82 smartphone, according to the AP. Future versions of the device are expected to be able to recognize individual faces or locations and even translate multiple languages.
"The knfbREADER Mobile will allow the blind unprecedented access to the printed word, affording a level of flexibility and capability never before available," said Dr. Marc Maurer, President of the National Federation of the Blind, in a statement. "No other device in the history of technology has provided such portability and quick access to print materials."
There are currently about 10 million blind and visually impaired individuals in the United States that could benefit from the smartphone, the AP reports.
The device could also be used to help people with dyslexia cope with the reading disability, and the U.S. military has provided funding to College Park, Md.-based Applied Media Analysis for a similar smartphone technology that could be used by soldiers or others to translate foreign text, according to the AP.
AS
Related Links:
Ray Kurzweil on the Promise and Peril of Technology in the 21st Century
Al Sacco was a journalist, blogger and editor who covers the fast-paced mobile beat for CIO.com and IDG Enterprise, with a focus on wearable tech, smartphones and tablet PCs. Al managed CIO.com writers and contributors, covered news, and shared insightful expert analysis of key industry happenings. He also wrote a wide variety of tutorials and how-tos to help readers get the most out of their gadgets, and regularly offered up recommendations on software for a number of mobile platforms. Al resides in Boston and is a passionate reader, traveler, beer lover, film buff and Red Sox fan.