Denis O'Leary joined Fiserv's board of directors on Tuesday, January 22. He sits on the technology services provider's audit committee. A private investor and consultant, O'Leary, 51, currently serves as a senior advisor with the Boston Consulting Group. He also sits on McAfee's board of directors and on Hewlett Packard's advisory board. O'Leary previously worked for JP Morgan Chase for 25 years, having held myriad positions including director of finance, CIO, head of retail banking and managing executive of Chase.com/Lab Morgan, which managed the company's adoption of strategic technology and its equity investment in technology vendors serving the financial services industry. O'Leary was an executive vice president of JP Morgan Chase from 1994 to 2003.
A week and a half ago, Fiserv announced it had hired former Countrywide Financial CIO Richard Jones as its new CIO.
Electronic trading solutions provider NYFIX appointed Mitchel Lenson to its board of directors. Lenson, who is currently a partner in Olivant Advisers Limited, served as Deutsche Bank's group CIO from 2000 until his retirement in 2005. Before that, he worked for Swiss Bank Corp., which he joined in 1994. When Swiss Bank created UBS, Lenson became UBS's managing director and global head of operations. Lenson also previously served as a non-executive chairman at BCS PLC, a board member of clearing firm EuroClear and as a founding member of the European Securities Forum. He earned a bachelor of business administration degree in finance from City of London Polytechnic and an MBA in finance and banking from City University Business School.
Borders Group CIO Susan Harwood hired Gary Baker as the bookseller's vice president of IT delivery services on Tuesday, January 22. Baker is responsible for the development and execution of strategic IT processes related to the delivery of technology inside the company. He comes to the Ann Arbor, Mich.-based Borders from the world of consulting. He most recently worked for AlixPartners as its director of IT transformation services. Prior to AlixPartners, he was with EDS working on its contract with General Motors as managing director and process executive for GM Global Purchasing, Supply Chain and Business Services. Previously, he was a partner in Arthur Andersen's advanced technology group for three years. He founded and served as CEO of Online Technologies and Baker Investment Group. Baker serves on the boards of University Bancorp and the Economic Alliance for Michigan. He earned his bachelor's degree and MBA from the University of Michigan, where he also taught in 1990.
Daniel Conrad joined online education provider Embanet as its first ever CIO. Conrad comes to the Toronto, Canada-based company from Thomson Eduction Direct where he served as president for the past four years. Previously, he was SVP and CTO of Thomson's Delmar Learning Division.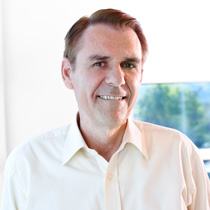 Ken Harris (at left), CIO of natural products maker Shaklee, joined the advisory board of business intelligence software provider PivotLink (formerly known as SeaTab Software).
Ceva Logistics hired Peter Dew as its CIO. Dew begins his job with the Netherlands-based company on April 1, 2008. He will sit on the executive board and be based at the company's headquarters in Hoofddorp, The Netherlands. Dew most recently served as CIO of Linde Group and previously as group director of information management