Dear Palm OS:
It's been a wonderful seven years since you and I met through Handspring Visor. But I'm afraid the thrill is gone. And unless you do something really crazy—say, like buy into Apple's opening its iPhone and iPod Touch interface to software developers—then I'm afraid I'm going to have to move on.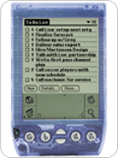 Which is a shame, because I really really want us to stay together. At least on the software side of life.
I remember buying you for $250 at a CompUSA at this time of year in 2000. It seemed like a crazy sum at the time for a handheld organizer with what, 16 MB of memory? Ah, but it didn't matter. I was in love.
You weren't glamorous, no. But you were so simple, useful, timely. Your black and white display was difficult to see on an airplane, even when the backlighting feature was on, but so what? I didn't have an overstuffed, illegible paper datebook anymore. And you could fit an endless number of addresses, appointments. A number of my coworkers bought Visors, too. We we had them all: green, blue, orange. Mine was clear "ice." We would trade tips. It was like a group of friends dating. It was fun. I learned how to write the Palm grafitti—quite well, I might add, almost as fast as regular script. Once I borrowed the camera attachment and took sepia-toned photos of the baby to show friends. I bought the portable Targus keyboard to go with my Visor, with visions of writing in cafes on the tiny screen. I found some free software add-ons for uploads of games, sports team schedules. I remember scanning ads for other Visor add-ons: a GPS locator, extra memory, reference books. Once I interviewed a high-priced consultant who answered a call on his high-end Visor with a mobile phone Springboard module attached! That was cool in 2001.
I've kept you with me, but for whatever reason, our meetings have happened mostly at the desktop. Oh, sure, I tote you around on trips, but really, it's been all business, no thrills.
I guess my feelings began to wander when I bought my wife an iPod nano two years ago. Instead of looking for you, Palm OS, I would steal away with her iPod for kicks. Last year, a colleague showed me how the iPod could synch up with a Macintosh calendar. It looked better than you did, I thought. But not good enough to wander.
Then, last summer, I saw the iPhone debut. Even with the unusual hype whirring, I still thought that was cool, and I wanted one—without the phone. (Wi-Fi? You bet! Monthly contract: no thanks.) And so when the iPod touch came out, I got one.
Now, you're not going to believe this, but I tote around too many things: a mobile phone, an iPod, and you. And as the saying goes, three's a crowd. I know that eventually, I'm going to have to migrate almost 1,000 addresses, more than 100 memos, birthdays, anniversaries, you name it. That is, unless you made a big change.
Oh, I know, I know. You are trying. In spite of ample criticisms about your ongoing challenges, I get e-mails every month with special offers of rebates and coupons and sometimes even free accessories. Some of the products look appealing. But I don't want your hardware anymore. It's all about your software. (I think a Palm icon would look great on that iPhone or iPod Touch screen. Do you?)
I will always have a soft spot in my heart for you, Palm. But I'm afraid our relationship is coming to an end soon, unless you find it in your heart to come with me and my iPod. I hope you will (it will save me a data entry headache). But even if you don't, I've made my choice. And we'll always have those trips to San Francisco.
Stay synched,
Michael