Who can argue with the huge success of Angry Birds? Augmented reality has helped breathe new life into old apps. A former Apple engineer recently came out with a very cool iPhone app called VisualList, a note-taking app using the built-in camera.
Apple has just crossed the 10 billion app download mark, and its two-and-a-half-year-old App Store now offers more than 400,000 apps.
Sounds like the iPhone app market is booming, right? Well, I'm here to make a case that the great iPhone app gold rush is largely over. Sure, there is still gold in them thar hills, only now it's slim pickins'. Here are three big reasons why: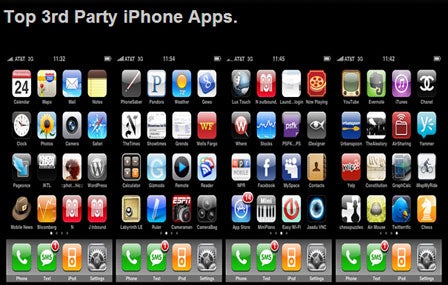 1. The Cream Has Risen to the Top
With the Verizon iPhone on deck this week, the number of iPhone users should spike. This means more app downloads and, of course, more apps offered by developers seeking to capitalize on a growing customer base.
But the numbers don't tell the whole story. The reality is that there are only a handful of really great apps, nicely summarized in our list of 15 must-have iPhone apps for newbies. One of those apps is Shazam, which listens to music and identifies the artist and song. For many, Shazam was the first "wow" app on the App Store.
App developers have told me that the bar has risen, in terms of app sophistication and competition. Given the din of 400,000 apps, the odds of getting into the App Store's top ten lists aren't good, they say. Much of an app's success hinges on its ability to break into the top ten in its category.
So much has been done already with apps that it's hard to come up with something wholly new. Only a few apps break the barrier and become an elite app each year. Moreover, seasoned iPhone owners expect more from an app these days.
Ah, the good old days of the iFart app.
2. iPad, the Cannibal
The iPad has wrecked the once-high-flying netbook market, and now it's threatening the mainstream laptop market. Check out the CIO.com story, Can You Swap Your Laptop with an iPad? Even Apple has expressed concern that the iPad might cause a little cannibalism with its MacBook line.
(For the record, Apple says the benefit of the "halo effect," whereby the iPad brings previously non-Apple consumers to the Apple platform and product line, outweighs any cannibalism.)
So why not iPad apps cannibalizing iPhone apps?
Given the ultra-mobility of the iPhone, it makes sense that location-based apps, communication apps, news apps and social networking apps (where you absolutely must check status updates every five minutes) continue to do well. But other apps simply play better on the iPad.
Web surfing? iPad. Games? iPad. Video? iPad. Books? iPad. In fact, if you get the Verizon hotspot on your iPhone, you can do even more on your Internet-connected iPad. Let's face it, the iPad's 10-inch screen makes all the difference when compared to the iPhone's 3.5-inch screen.
On a related note, the iPad, the rise of the Android phone, and coming Android tablets mean that mobile app developers will have tough decisions to make about where to put their resources. In the past, the iPhone was a no-brainer. That's not the case today.
3. Want an iPhone App? Pay up.
The business model behind the iPhone app is moving from free (or nearly free) apps that build brand affinity to apps that drive recurring revenue based on usage or a subscription fee, according to a survey of 2,235 mobile app developers conducted by Appcelerator and market researcher IDC.
Shazam, for instance, had provided unlimited song tagging on a free app. Today, the limit is five per month. There's no limit with Shazam Encore ($4.99). Another formerly free app, Kneebouncers, a computer gaming app for toddlers, began charging $20 per year to play. The move lit a firestorm of complaints on its Facebook site.
Truth is, the days of the cheap iPhone app are coming to an end. The free lunch is over. If you thought iPhone owners were becoming picky about apps after years of forking out a buck or two on a useless app, subscription-based apps are going to make them hypercritical.
Only a few of the best apps will find success—and that ain't no gold rush.
Tom Kaneshige covers Apple and Networking for CIO.com. Follow Tom on Twitter @kaneshige. Follow everything from CIO.com on Twitter @CIOonline. Email Tom at tkaneshige@cio.com.