A couple of weeks ago, I broke the news that RIM is planning to ship a cellular version of its upcoming BlackBerry PlayBook tablet PC with AT&T 3G support in the late March/early April timeframe. (Read more specifics here.)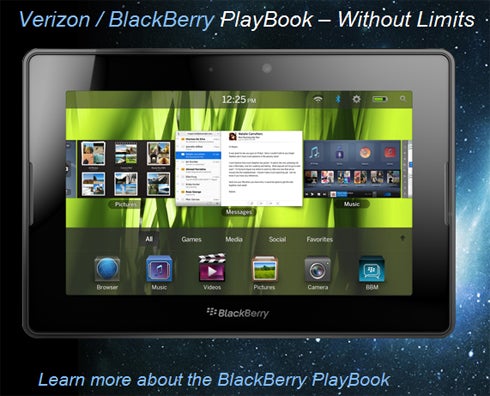 Back in August, RIM unveiled a Wi-Fi only version of the BlackBerry PlayBook at its annual developer conference, and U.S. wireless carrier Sprint later announced plans to release a 4G WiMax PlayBook this summer. But to date, neither the BlackBerry-maker nor any other wireless carriers have shared details on more PlayBook launches.
In addition to bringing you a rough release estimate for the AT&T 3G PlayBook, I also mentioned in my previous post that RIM is already hard at work on a 4G LTE version. Though I didn't report any specific carrier name associated with that LTE tablet at the time, my source did inform me that Verizon would eventually offer an LTE PlayBook.
And that source also said that 4G PlayBook should arrive shortly after the AT&T 3G version; in other words, the 4G LTE version of the BlackBerry PlayBook should be available right around the same time as the 4G Sprint version this summer.
Thanks to a RIM/Verizon Wireless partner site, originally spotted by CrackBerry.com founder, Kevin Michaluk, PlayBookWithoutLimits.com, we now have confirmation that Verizon will indeed offer the BlackBerry PlayBook to its customers, as expected, assuming the website is legitimate. (If it's not, RIM ought to get its legal team on the matter, because the site contains many official—and trademarked—BlackBerry logos, as well as Verizon logos. And it also contains a full page with RIM's legal terms and services.)
From the FAQ section of the RIM/Verizon site, PlayBookWithoutLimits.com:
"RIM intends to also offer a 4G [PlayBook] model in the future" and "Verizon is working with RIM on overall support of the BlackBerry PlayBook, however Verizon has not made any public statements or announcements. "
The site doesn't offer up too much more than confirmation that Verizon is currently working with RIM to get a compatible version of the PlayBook out the door, but combined with the information I shared last month, it seems clear that a 4G LTE version of PlayBook will be here by this summer or earlier. And the name of the site, PlayBookWithoutLimits, could be a reference to the fact that users of Verizon's PlayBook won't need to tether to a BlackBerry smartphone for cellular connectivity, as is the case with the Wi-Fi only version.
I just hope it arrives fast enough to compete with the handfuls of powerful new tablets announced each month, including HP/Palm's TouchPad, and the much anticipated second generation iPad.
AS
Al Sacco covers Mobile and Wireless for CIO.com. Follow Al on Twitter @ASacco. Follow everything from CIO.com on Twitter @CIOonline. Email Al at ASacco@CIO.com.