While Spain soccer fans found a friend in Paul the octopus (rest in peace), who correctly predicted they'd win the 2010 World Cup, the Pittsburgh Steelers have an elephant named Angeline on their side.
But if you're a Green Bay Packers fan, rest assured—you, too, have a prognosticating animal that favors you: Princess the camel from Popcorn Park in New Jersey. Really.
But if you're not about to trust animal instincts when placing your bets for Sunday night's big game, consider looking to social media. According to Infegy, a Web and social analytics company, this year's Super Bowl belongs to the Packers, but only by a hair.
Infegy collects billions of messages and articles from sources throughout the Internet—including blogs, tweets and news stories—and monitors, measures and analyzes the sentiment of these messages. In the last four years, the company says, three out of four teams that dominated online buzz leading up to the Super Bowl emerged as the winning team.
(The New York Giants' win over the Patriots in 2008 was the year it predicted incorrectly. Let's be honest, though, no one expected that one.)
This year, the statistics are close: the Packers (in blue) have been mentioned 0.4 percent more often than the Steelers (red) within Super Bowl conversations.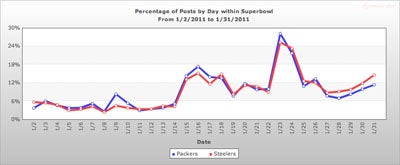 Online sentiment, too, favors the Packers. Chatter surrounding Green Bay was 78 percent positive throughout January, compared to the Pittsburgh Steelers, who earned only 69 percent positive talk.
Analyzing conversations through social media to predict an outcome isn't new, though. In October 2010, Twitter made headlines after a paper was published—with a compelling argument—saying that Twitter could predict stock market behavior.
And before that, two researchers at HP Labs discovered that you can use Twitter mentions to predict how well a movie will fare during its first couple of weekends on the big screen.
If there is something to tracking social sentiment and chatter across the Web—and it seems there is—take another bit of information from Infegy into consideration: Football fans allegedly care less about the Super Bowl this year compared to last year. In 2010, chatter around Super Bowl XLIV was 26 percent higher than this year's Steelers-Packers faceoff.
We'll have to wait until Sunday to see which prediction—that from Angeline the elephant, Princess the camel or Infegy the social analytics company—pans out. But if social media and Internet chatter are an indicator, it should be a close game. Or maybe this year, you don't care.
Kristin Burnham covers Consumer Technology, SaaS, Social Networking and Web 2.0 for CIO.com. Follow Kristin on Twitter @kmburnham. Follow everything from CIO.com on Twitter @CIOonline. Email Kristin at kburnham@cio.com.