Business software maker Salesforce.com has released a pair of new mobile applications for its Chatter "real-time collaboration cloud" service for BlackBerry and Apple iOS devices. A mobile version of Chatter for Android is "coming soon."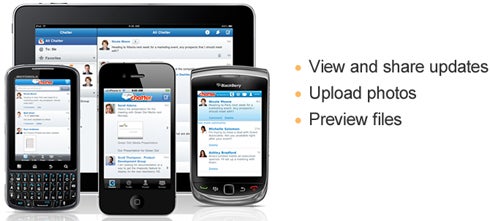 Salesforce.com Chatter is a business-oriented social-networking service of sorts that lets coworkers and colleagues share business- and social-status updates, work and instantly communicate with online groups, monitor relevant feeds to stay on top of project updates/etc., and share important information and documents, among other things.
The BlackBerry app is available only for Research In Motion (RIM) smartphones running BlackBerry OS 5.0 or higher, and it can be downloaded from Chatter.com/BlackBerry. The iOS apps for both iPad and iPhone can be found in Apple's iTunes App Store.
Salesforce on Monday also announced a new, cloud-based free version of Chatter and an associated website, Chatter.com, that's open to the public so any company can, in effect, create a "free, private social network." Anyone with a "company e-mail address" can sign up for the free version, according to Salesforce.
The enterprise version of Salesforce Chatter is now generally available and included for free with all paying user licenses of Salesforce CRM and Force.com, the company says. Chatter Plus–which packs more features—user-licenses are available for customers using the company's Professional Edition, Enterprise Edition or Unlimited Edition software for $15 per user, per month. And Chatter Free is now generally available to all employees of paying salesforce.com customers at no charge, according the company.
Salesforce intends to raise awareness of its new Chatter.com service via television advertisements, created along with hip-hop artist and "futurist" Will.i.am using Chatter.com, which will first air on Sunday, February 6, a.k.a., Super Bowl Sunday.
Visit Chatter.com for more information on the service and its associated mobile applications for BlackBerry, iOS and Android.
AS
Al Sacco covers Mobile and Wireless for CIO.com. Follow Al on Twitter @ASacco. Follow everything from CIO.com on Twitter @CIOonline. Email Al at ASacco@CIO.com.