BlackBerry-maker Research In Motion (RIM) has for the past few years provided a variety of online resources to help BlackBerry users, IT administrators and other BlackBerry support staffers diagnose and resolve BlackBerry-smartphone-related issues, including the company's "Help" page at mobile.BlackBerry.com, the BlackBerry Support Community Forums and its vast, BlackBerry Technical Solution Center (BTSC).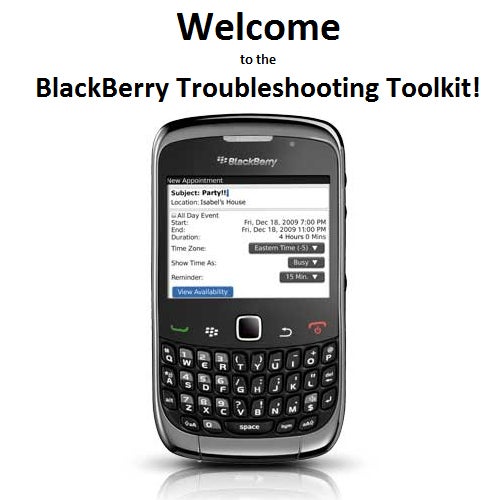 Unfortunately, I've mostly found those pages to be either too "bare-bones" to offer much genuine assistance (mobile.BlackBerry.com) or too unwieldy to find a helpful solution for many BlackBerry-related issues (BTSC).
Late last week, I came across another online BlackBerry troubleshooting resource from RIM: The BlackBerry Troubleshooting Toolkit. And though these utilities appear to be meant for BlackBerry support staffers employed by wireless carriers or other device retailers, they're sure to come in handy for anyone looking to resolve basic BlackBerry-related problems.
The site may or may not be "new"–I've personally never noticed it before, but that doesn't mean it wasn't there. The page layout is clean and simple to navigate. And the problem-resolutions seem, for the most part, to be easy to follow and accurate. For example, I used the BlackBerry Troubleshooting Toolkit to find instructions on how to "fix" a slow or lagging BlackBerry, and the steps the website provided were just about what I would recommend myself. And they were easy to find.
RIM's online BlackBerry Troubleshooting Toolkit offers assistance related to Bluetooth, battery, audio, application, charging, e-mail, error message, software and much more, all via a simple navigation bar on the left-side of the site or a search-field.
Bottom line: If your BlackBerry is misbehaving and you can't find a resolution via a quick Google search, you'd do well to make a quick stop at TroubleshootingToolkit.com before running out to your carrier or another support technician. Afterall, those BlackBerry support techs could be instructed to visit the same site to help resolve your issues.
On a related note, check out RIM's list of the "Top 10 BlackBerry Troubleshooting Tips and Tricks," posted earlier this year.
AS
via @banthon
Al Sacco covers Mobile and Wireless for CIO.com. Follow Al on Twitter @ASacco. Follow everything from CIO.com on Twitter @CIOonline. Email Al at ASacco@CIO.com.