PC-maker Dell is planning to do away with roughly 25,000 of its employees' company-issued BlackBerry smartphones and replace them with its brand new Windows Phone 7 handheld, the Dell Venue Pro, according to a report on WSJ.com.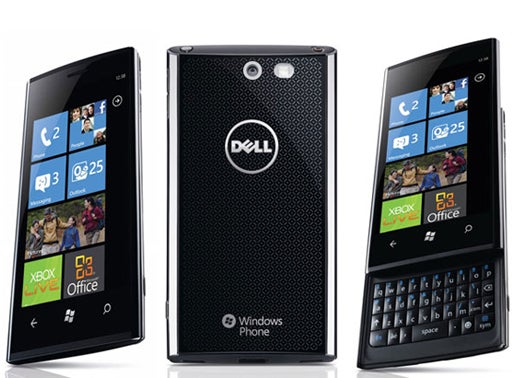 Dell will begin the BlackBerry-to-Venue-Pro switch next week, according to the report, and in the future the company plans to offer employees the choice between one of its own devices, like the Venue Pro, and other handhelds powered by Google's Android mobile OS.
Dell currently employs some 100,000 employees globally, according to Reuters, so up to a quarter of the company's entire workforce could trade in their 'Berrys for Dell's Windows Phone 7 Venue Pro.
The Venue Pro is a T-Mobile exclusive in the United States, so the thousands of Dell staffers will presumably all be using T-Mobile for wireless service, at least at first. Dell is reportedly in talks with T-Mobile about service plans that could save the company cash on data/voice, as is often standard when a large company purchases "bulk" wireless service for its employees, according to the report.
Dell CFO Brian Gladden told WSJ.com that the switch from BlackBerry to its own handhelds could potentially reduce its "mobile communication costs" by 25%, and that the majority of that savings would be attributed not to the hardware switch, but to the fact that the company will no longer use RIM's industry-standard BlackBerry Enterprise Server (BES). Instead, Dell will use its own BES-alternative offering, and the company will within two weeks begin marketing this service to its business customers in hopes of swaying them away from RIM and BES.
Gladden told WSJ.com, "I'm not sure I care as much about the devices as the services. There's a services opportunity that we think is even bigger."
My initial thought on the move is that I too would want my staffers to use Dell-devices if I were making the smartphone-related decisions in Round Rock. Dell is clearly competing with RIM in the smartphone-market at this point, and it makes perfect sense for the company to stop, or at least reduce, its support for a competitor.
But a few things rub me the wrong way here. First of all, many of these Dell staffers probably love their BlackBerrys. These "CrackBerry" addicts may have been using a corporate-issued BlackBerry for years, and they may resent Dell's decision to pry those RIM devices from their grips. It's unclear if Dell is "forcing" staffers to use its own devices or giving them the choice of swapping out BlackBerrys for Dell handhelds. But it sounds like the former case is more likely, since Dell plans to do away with RIM's BES, which is required for enterprise communications via BlackBerry.
Forcing employees to give up tools that have worked for them for years, that have become a part of their routine, could have negative results. Especially since Dell appears not to be giving these smartphone-toting employees any sort of choice; the only device available to them initially will be the Dell Venue Pro…on one wireless carrier, T-Mobile. And a one-size-fits-all approach to smartphones–and carriers–is never a good idea, in my opinion.
As for Dell's new BES-alternative software offering, it's hard not to be a bit skeptical of the product. RIM's BES is the industry-standard for a reason: It's certified by many of the world's high-level security agencies and governments and BlackBerry customers trust it to protect their sensitive data. From an IT standpoint, it's relatively easy to setup and maintain BES. And though the full version of BES can be quite expensive, RIM offers free BES Express software to organizations that may not need the highest level or security and IT-control.
Also, Dell is a hardware company, not a software company…and its past record in the mobile space isn't exactly impressive.
I'm anxious to see what Dell has up its metaphorical sleeve, and RIM's loss of Dell as a customer and supporter probably isn't a good thing in the BlackBerry world; RIM's foothold on the enterprise market could weaken because of the decision. And other companies could follow Dell's lead, especially if Dell can demonstrate that its employees are happy with the change, the new hardware and software meets all their needs, and the company is saving money.
But really, if Dell's employees don't embrace the new devices, and the its business customers don't jump over from BES to the company's upcoming software offering, the whole situation could quickly turn into a lesson in why organizations should stick with RIM and BES.
AS
via WSJ.com
Al Sacco covers Mobile and Wireless for CIO.com. Follow Al on Twitter @ASacco. Follow everything from CIO.com on Twitter @CIOonline. Email Al at ASacco@CIO.com.