Back in January, I had the pleasure of interviewing "Big ERP," the cartoonish representation of enterprise ERP vendors and their gluttonous views on big, expensive software implementations and fat support contracts that milk their customer bases. (See the image on right.)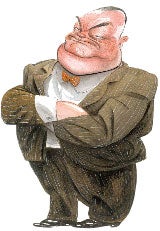 Big ERP's views can be summed up as "anti-choice, anti-customer, anti-cloud—pretty much anti-everything that takes revenues out of his coffers and makes customers' ERP lives more manageable," as I wrote.
Keep in mind these ERP satirical slights conjure visions of SAP and Oracle, the biggest of the big.
The inside joke was that Big ERP (and the related ad campaign and clever Twitter persona) was actually the creation of Infor: an ERP vendor portraying itself in the campaign as the anti-Big ERP vendor choice, a sort of savior for SMBs flustered by SAP's and Oracle's money-hungry tactics.
"WE ARE NOT BIG ERP," Infor has proclaimed in the ads. And Infor chief strategy officer Bruce Richardson put it to me in an interview: "We're not Oracle or SAP."
OK, we get it, fellas.
The unpleasant irony, of course, is that Infor is not exactly the "David battling the Goliath" it has made itself out to be. It's got a large installed base chock-full of legacy apps that reminds one of…um, I don't know…let me think…maybe, SAP and Oracle.
Infor is a $2 billion vendor (give or take, Infor's private), with 70,000 customers around the globe and 8,000 employees. And it's positively Oracle-ian in its acquisition appetite: gobbling up dozens of vendors over the years to fill out its technology portfolio and customer base.
So when comparing annual revenues it's not an SAP or Oracle. Infor is, however, just one or two large acquisitions away (say, Lawson or Epicor) from becoming fodder for an upcoming @Big_ERP barrage of tweets.
The possibility of more acquisitions or perhaps a prospective IPO became all the more logical with the announcement that former Oracle president Charles Phillips will join Infor as its CEO in December.
The Phillips hire signals a couple of things: First, Infor has serious designs on expanding its customer base and revenue streams (dare I say "big plans"?) with its "next generation platform" (Infor ION) shipping in January 2011. Phillips, with his grandiose pedigree of "overseeing" 300 percent revenue growth while at Oracle, ain't there just to be a pretty face.
Second, Phillips' Wall Street background is well known (hello IPO!). And yet Oracle's customers and those analysts closely following the vendor lauded him for the welcome attention he gave to customers, which stood in stark contrast to the level of interaction between his co-president (Safra Catz) and CEO (Larry Ellison). So he knows how to mollify a base (i.e. ERP customers) prone to resist expensive upgrades and more software-related capital outlays, which is what Infor now faces.
And lastly, it proves the theory that seasoned tech executives are good at getting second chances—no matter how big the fall from grace. (Touché, Léo!)
Could it be that the "Little ERP" provider, Infor, is all grown up now, and isn't so little anymore? I think so.
Unfortunately, when news of the Phillips hire broke on Monday morning, the @Big_ERP twitter account was all too quiet. What's a matter, Big ERP, cat got your tongue?
Thomas Wailgum covers Enterprise Software, Data Management and Personal Productivity Apps for CIO.com. Follow him on Twitter @twailgum. Follow everything from CIO.com on Twitter @CIOonline. E-mail Thomas at twailgum@cio.com.