Wireless operator T-Mobile is expected to become the first U.S. carrier to offer Research In Motion's (RIM) much-anticipated refresh of its high-end BlackBerry Bold 9700 smartphone, the Bold 9780. And T-Mobile U.S.A should make the device available on or around Wednesday, November 17, according to a new report.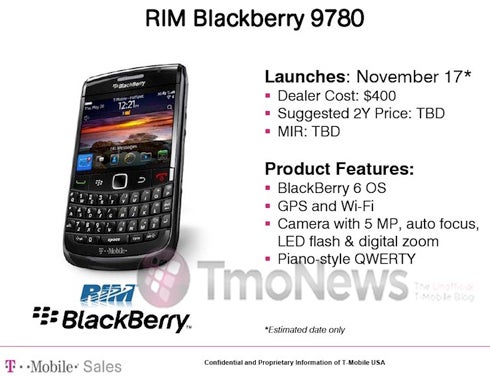 This purported T-Mobile BlackBerry Bold 9780 release information comes from T-Mobile-focused blog TmoNews.com, and the release date seems to originate from some sort of leaked T-Mobile sales document. The document states that November 17 is currently T-Mobile's Bold 9780 target release date, but it also specifies that this date is not yet set in stone.
On November 16, 2009, almost a year to the day before T-Mobile is expected to release the Bold 9780, the company became the first U.S. carrier to release the Bold 9700, which, on the outside, is practically identical to the new Bold 9780, except for the 9780's all-black bezel or frame, compared to the 9700's silver bezel.
The differences between the original Bold 9700 and the 9780 refresh, minor as they may be, are on the inside. Specifically, the new Bold 9780, which has not yet been officially announced by RIM or any wireless carrier, runs RIM's latest mobile OS, BlackBerry 6. It is thought to pack more application memory, with 512MB compared to the Bold 9700's 256MB of app memory. And the device has a higher-quality, 5MP digital camera, while the Bold 9700 has a 3.2MP shooter.
That's really all that sets the new device apart from the older 9700 model, at least that I know of…but I think that's a good thing.
Shortly after the Bold 9700's release last year, I penned a review of the device in which I called it "RIM's Best BlackBerry Ever." I think that statement still holds true, even though RIM has since announced and/or released a handful of cool new devices including a 3G Curve 9300, the touch-screen/full-QWERTY combo-device, the Torch 9800, and the upcoming BlackBerry Style 9670 clamshell smartphone.
It would be nice to see RIM simply release a BlackBerry 6 OS build for the Bold 9700, but that device presumably won't run the new mobile OS as well as the 9780, due to application-memory-constraints and other technical-restrictions.
As far as 9780 pricing goes, the T-MoNews.com document lists a "dealer cost" of $400, but the subsidized cost along with a new two-year service agreement is listed only as "TBD." The current T-Mobile Bold 9700 is listed online for $129.99 with new service agreement, in both black and white color options. So it stands to reason the Bold 9780 will go for between $149.99 and $199.99 when it's released in the coming weeks.
Additional global carriers are also expected to release the BlackBerry Bold 9780 in the not-so-distant future, including T-Mobile, Vodafone and Orange in the United Kingdom and Bell Mobility in Canada.
U.S. carrier AT&T will also very likely be close behind T-Mobile with a BlackBerry Bold 9780 release of its own, but details are sparse on that front.
AS
Via TmoNews.com
Al Sacco covers Mobile and Wireless for CIO.com. Follow Al on Twitter @ASacco. Follow everything from CIO.com on Twitter @CIOonline. Email Al at ASacco@CIO.com.