A short time ago, in a fiscal quarter just gone by…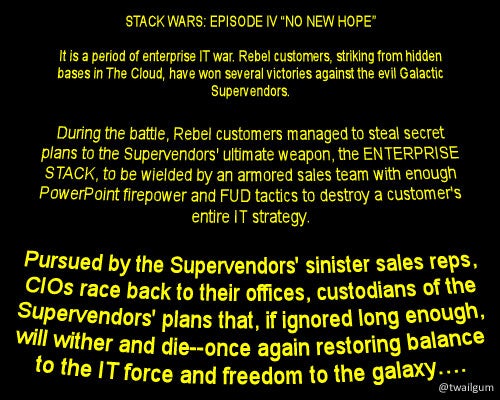 It's not difficult to see how enterprise technology vendors are gathering power as they march their way toward The Stack: an all-encompassing package of hardware, software and services being sold to captive customers.
This vision gets the vendors' internal armies excited because it is all about a highly profitable trilogy.
Not all CIOs are buying the vision, however. To some, the stack (or even half a stack) amounts to being "locked in" with one vendor, a troubling prospect that they are embracing with as much excitement as Princess Leia showed when she was made Jabba the Hutt's "personal assistant."
In addition, CIOs have stated in surveys that they don't want to be sold any more software, hardware or services—even if it is a "one-stop shopping" experience that purportedly offers the customer one vendor's "throat to choke" when problems arise. (Picture Leia choking Jabba on his sail barge, if you want.)
CIOs, rightly, want their tech vendors to help them solve their business problems. That's the New Normal. And in the New Normal, CIOs don't want to own more; they want to own less. Less of everything.
Does a stacked shopping experience actually help? I don't think so. Especially since CIOs have a maturing volume of non-traditional, cloud-based technology software and services available to them.
So what do the stacks look like? One recent blog post, Stack Wars: What Is the Enterprise Stack?, offers a helpful overview of the evolving situation, as well as a look at how the "virtual stack" might affect long-term IT strategies. (Yup, that's "virtual stack.")
One notable example of this trend is Oracle's Red Stack vision—"Software. Hardware. Complete." It is the manifestation of CEO Larry Ellison's desire to be more like IBM of yesteryear. (Ellison has made declarations about not entering the "services" end of the stack, but the winds can switch directions quickly around Redwood Shores, so who really knows.)
As more and more supervendors annex more solar sys—er, I mean, smaller vendors, CIOs will likely become a new and larger vendor's customer not by choice, but because they were part of a mega-acquisition. That has certainly happened in the past, and CIOs have dealt with it.
But as more "stacks" appear, the number of viable, non-stack alternatives will dwindle.
C-3PO once said: "Surrender is a perfectly acceptable alternative in extreme circumstances." I hope not.
Thomas Wailgum covers Enterprise Software, Data Management and Personal Productivity Apps for CIO.com. Follow him on Twitter @twailgum. Follow everything from CIO.com on Twitter @CIOonline. E-mail Thomas at twailgum@cio.com.