How does Microsoft reel in and keep those big corporate customers? One way is the company's technology centers — which are pre-sales facilities located in major cities such as New York, Boston, Paris, Moscow and Tokyo.
Within these learning centers, which host 50,000 visitors each year at 22 facilities around the world, Microsoft experts demo its enterprise software products such as SharePoint, Dynamics CRM and Office Communications Server for customers or potential customers. The end goal is to win new business, but along the way learning center experts also do proof of concept workshops, discuss software architecture design and break down how Microsoft software meets business needs and bottom lines.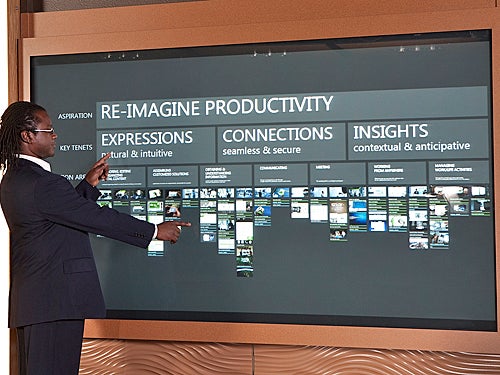 One MTC in Chicago has recently deployed new technology to inject more life into presentations. Enter a 52-inch touch-screen display using NextWindows touch technology. In 2009, the screen was rolled into the Chicago site's Envisioning Center where presenters showcase how Microsoft technologies can be used in different business scenarios. The Chicago MTC also offers a demo, based mostly on Microsoft research, for still-developing natural user interface technologies such as speech, multi-touch and camera-based gestures.
This year, The Chicago MTC decided that the 52-inch display wasn't wide enough, so they replaced it with a 103-inch wall-mounted unit as the main display in the Envisioning Center. The display also uses NextWindow technology and was built and installed by Illinois-based design firm Ravenswood Studio.
Slideshow: Seven New Windows 7 Tablets: In Pictures
Slideshow: Windows 7 Hardware in Pictures: The Latest and Greatest Laptops
Slideshow: Microsoft's Home of the Future: A Visual Tour
The main benefit of touch technology, says Ed Mondek, Technology Architect at the Chicago MTC, is that it allows presenters to instruct in a more natural way. They can stand up and physically interact with the screen, rather than sitting behind a laptop.
"It provides a more flexible presentation, and the experience is more engaging because the presenter is interacting with the same display that the customers themselves are looking at," says Mondek.
But just as important, touch screens are also a lot of fun.
"The first time someone sees us use this display, they just smile," Mondek says. "They typically ask how we're doing it, and they often come up and try it themselves."
Currently the Chicago MTC is the only center using touch-screen displays for its presentations, but a spokesperson for NextWindow says several displays are being prepared for other Microsoft Technology Centers.
Shane O'Neill covers Microsoft, Windows, Operating Systems, Productivity Apps and Online Services for CIO.com. Follow Shane on Twitter @smoneill. Follow everything from CIO.com on Twitter @CIOonline. Email Shane at soneill@cxo.com.