Ah, what better sort of mobile application to profile in the Mobile WorkHorse blog than a new BlackBerry app meant to provide various road warriors, truck drivers and other travelers with information on the nearest tire-repair or replacement locations while on the road?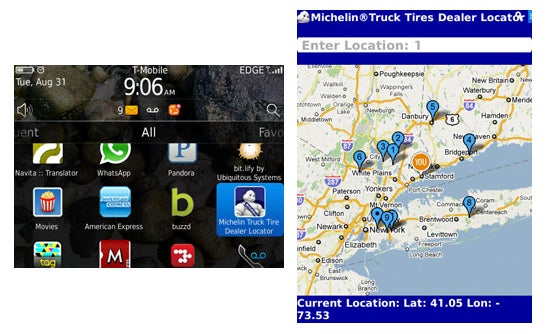 The new, free Michelin Truck Tire Dealer Locator shows BlackBerry smartphone users the on-map locations of nearby Michelin truck tire retailer and/or service providers, along with details about those specific locations.
The Michelin BlackBerry app also integrates with the company's ONCall Emergency Road Service (ERS), so its customers have instant access to the company's various roadside assistance offerings via BlackBerry. Michelin customers can call the ONCall service directly from the app or search for a provider by category, including emergency road service, travel plazas, onsite tire service or retread providers, according to the company. And the new app makes it easy to call various service providers or save their contact information to the BlackBerry address book.
The app is currently only available to users in the United States and Canada. It's unclear which BlackBerry devices are currently supported of if there are any sort of technical requirements. But I downloaded the app to my BlackBerry Torch 9800, and though I did see some rendering issues on that particular device, it still worked….mostly. I was able to find "nearby" Michelin locations, but the app thought I was somewhere in Connecticut, when I'm actually in central Massachusetts. You can enter in your current location manually in addition to using GPS, so I was able to quickly remedy that issue.
And Michelin says similar applications for DROID and iPhone handhelds will be launched in the fourth quarter of 2010.
Download the Michelin Truck Tire Dealer Locator for BlackBerry app over the air using your BlackBerry browser here. And find more details about the app on Michelin's website.
AS
Al Sacco covers Mobile and Wireless for CIO.com. Follow Al on Twitter @ASacco. Follow everything from CIO.com on Twitter @CIOonline. Email Al at ASacco@CIO.com.