Earlier this year, I wrote about five proven ways to get retweeted—research performed by Dan Zarrella, author of The Social Media Marketing Book.
In his earlier research, Zarrella compiled a list of the 20 most retweetable words and phrases—useful to know if your goal is to reach a greater portion of the Twittersphere.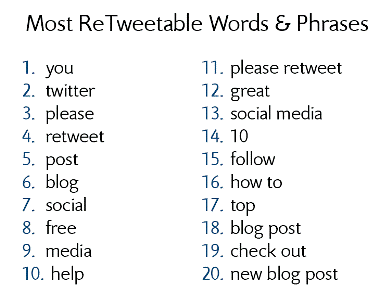 While this list can be used as a guideline to increase the chances others retweet your content, Zarrella wanted to take it one step further to help people find the most retweetable words about a specific topic.
Earlier this week, Zarrella unveiled a new tool that helps you do just that—"The Most ReTweetable Words Finder."
This tool generates the 20 most retweetable words about any given subject. Visit his site and enter a topic—"networking," for example. (Note that multiple-word searches rarely work right now.) Click "Analyze," and in a few seconds, the tool will generate a list of the top 20 most retweetable words associated with the term. The tool will also show the number of tweets and retweets analyzed to generate the list.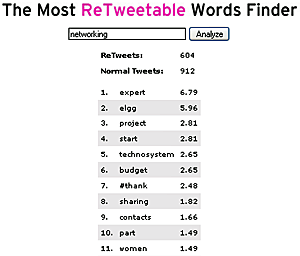 To produce the list, the tool compares words found in retweets and how often they appeared in regular (non-retweet) tweets. To keep the results up to date—and to reflect current trends on Twitter—each word is recalculated after 24 hours. The tool analyzes up to 1,500 tweets and 1,500 retweets per word.
Give this tool a try; but remember that since it's in beta, expect some bugs for now, Zarrella says.
Staff Writer Kristin Burnham covers consumer Web and social technologies for CIO.com. She writes frequently on Twitter, Facebook, LinkedIn and Google. You can follow her on Twitter: @kmburnham.