Research In Motion's (RIM) recently released BlackBerry 6 mobile OS is packed with new features and enhancements, and one interesting addition to the software lets corporate BlackBerry users on BlackBerry Enterprise Servers (BES) quickly view active IT policies by clicking a home-screen icon.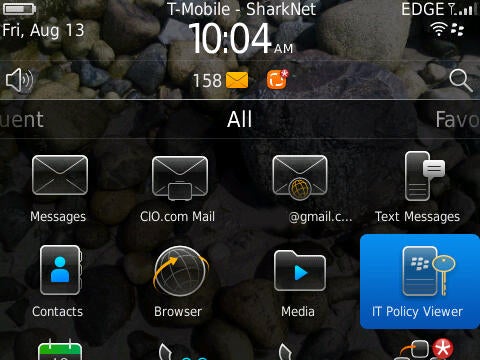 IT policies are security settings enabled by BlackBerry administrators via BES that block the installation of certain applications and services, stop access to websites, and/or protect certain types of potentially sensitive on-device data. Depending on the version of BES in use, BES admins can apply IT policies to individuals, groups of specific people or their entire BlackBerry user bases.
BlackBerry 6 is currently available only on RIM's brand new BlackBerry Torch 9800 slider smartphone, but it's expected to be released for both new BlackBerrys, including the Curve 9300, and older models, like the Bolds 9650 and 9700.
The new IT policy viewer informs corporate BlackBerrys users about what applications/services/etc. cannot be accessed via their smartphones. And users can elect to create a home screen icon for quick access to the information.
The feature is a simple, yet valuable addition, since many BES users often have no idea what sorts of IT policies are enabled on their handhelds until they try to access a blocked website or install blacklisted software. And the policy viewer lets them know which specific apps/app-types are restricted.
To see your specific IT policies or enable the BlackBerry 6 BES IT policy viewer, simply open your BlackBerry Options menu, scroll down to and select Security and then click Security Status Information. On the following screen, fill in the box next to Place IT Policy Viewer Shortcut on Home Screen and save you changes. When you return to your "All" icons screen, you should see the IT policy viewer.
Read more about BlackBerry 6 here. Then check out 10 Things You Don't Know About the BlackBerry Torch 9800.
AS
FREE CIO BlackBerry Newsletter
Get better use out of your BlackBerry and keep up-to-date on the latest developments. Sign-up ť