A few months back, rumors surfaced suggesting the oft-pictured, yet unannounced BlackBerry 9800 slider smartphone would launch on AT&T in the United States as early as June. At the time, I pointed out in this blog that a June BlackBerry slider released seemed mighty unlikely to me, then suggested that an early- to mid-August timeframe seemed much more probable.
And it looks as though I may have been right on target.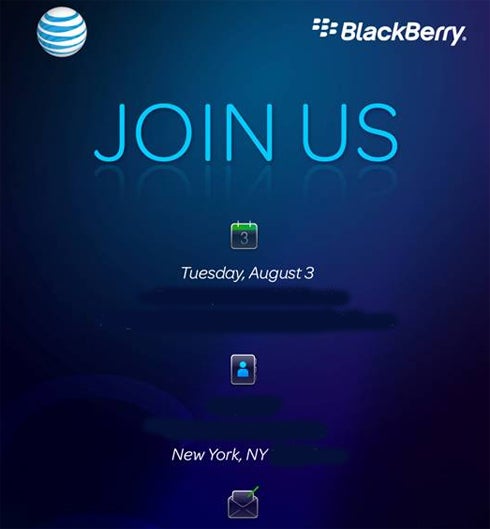 Yesterday I received an invite to an event in New York City on Tuesday, August 3, hosted by Research In Motion (RIM) and wireless carrier AT&T. The invite itself doesn't offer up too many specifics on what will be announced, but it does happen to show a number of icons taken from RIM's new mobile OS, BlackBerry 6, which suggests the event will be related to the upcoming software. RIM has also been heavily promoting BlackBerry 6 online via Twitter and its official blog, repeatedly noting that the software "is coming."
Since the invite also includes an AT&T logo, it stands to reason that a new device will be unveiled—or at the very least, BlackBerry 6 will be announced for an existing BlackBerry smartphone on AT&T, such as the popular BlackBerry Bold 9700, though this seems unlikely do to the minimal amount of application memory available in that device, 256MB.
If I had to guess on specifics, I'd say that RIM and AT&T announce the BlackBerry 9800 slider, which could be officially named "Torch" or "Bold," along with BlackBerry 6. I expect RIM to answer some of the questions that have been surrounding the new OS, including whether or not current BlackBerry devices will get an upgrade to BlackBerry 6—I say no. And it's probable that AT&T will announce an approximate launch date for the BlackBerry 9800, which should be a couple of weeks after the event, in late August.
Attendees will probably get some hands-on time with the BlackBerry slider and BlackBerry 6. And RIM could have a few additional surprises up its sleeve, as well, like a BlackBerry Desktop Manager 6 and/or media sync demonstration, etc.
This is all just conjecture at this point, and both RIM and AT&T could have another idea altogether. But I think it's safe to say from the invite that the event is BlackBerry-6-related, at least.
I'll be in NYC for the event next Tuesday, so stay tuned to the Mobile WorkHorse blog for more information as it becomes available.
AS
FREE CIO BlackBerry Newsletter
Get better use out of your BlackBerry and keep up-to-date on the latest developments. Sign-up »