Like sunburns, shark sightings and summer vacations with family members you're really not that into, the unveiling of Gartner's Hype Cycle chart is a cherished annual rite of summer.
Since 1995, Gartner's "Hype Cycle for Emerging Technologies" chart has categorized the techs that are hot and not so hot, and those that have finally garnered corporate and consumer acceptance. (The 2010 edition should be delivered any day now.)
I've dispensed my fair share of satire and snark toward Gartner—such as Magic Quadrant Lawsuit: Would You Jump Off a Bridge If Gartner Says So? and Gartner Goes Fonzie on Us: "Aaay, It's a Cool Vendor"—and I'd like to keep things rolling.
So in honor of the curvy chart that's laden with buzzwords, acronyms and not-quite-ready-for-prime-time technologies, I offer up what I think ought to be included (as well as some much needed footnotes) for this year's edition.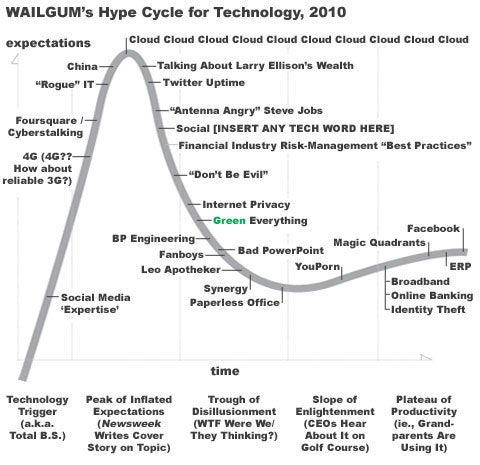 Do you Tweet? Follow me on Twitter @twailgum. Follow everything from CIO.com on Twitter @CIOonline.