With the release of Research In Motion's (RIM) brand new mobile OS right around the corner, the BlackBerry-maker is teasing its new software on its official blog and elsewhere online, including popular social-networking service Twitter.
Most recently, RIM posted a fairly detailed walkthrough of some of the new multimedia features found in BlackBerry 6 on the Inside BlackBerry blog. What follows is my personal take on the most interesting new BlackBerry 6 multimedia enhancements.
More Album Art Throughout Audio Player
RIM says the media section of BlackBerry 6 will be easier to navigate due to the presence of more visual cues, including album art, so users no longer need to find their way around music collections using mostly text.
This is a minor, yet potential valuable tweak to the BlackBerry media player, and it's one I'm certainly interested in putting through the paces. I just hope the syncing of album art via BlackBerry Desktop Manager or other media-sync apps actually works. I've never had good luck syncing music and album art to my BlackBerry via BlackBerry Desktop Manager for Mac; the music itself syncs up just fine, but it's rare that all the appropriate album art comes along with the tracks. Hopefully RIM addressed this issue in BlackBerry 6.
Improved Image Navigation and Management
New image organizing settings let users group sets of images stored on BlackBerry smartphones by the date they were taken or by "event," which presumably means you can add some sort of event-label to sets of pictures.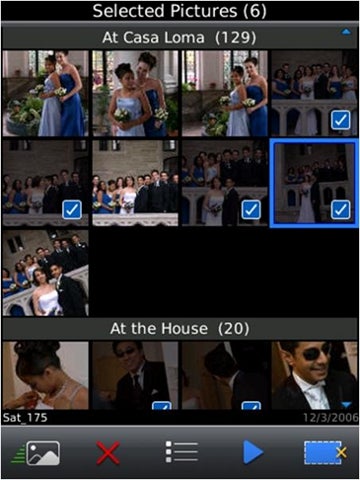 Another great new addition is the ability to select groups of images for quick and easy sharing, copying and pasting and removal. I'm particularly excited about this feature, because I do most of my image management on my device, and I've wanted a way to bulk-delete old images for quite some time.
Enhanced Video Navigation with "YouTube Video Uploader"
Similar to the album-art-based audio navigation tweaks mentioned above, BlackBerry 6 users will also be able to search through video content using thumbnail images instead of just text, as is the case with RIM's current BlackBerry OS, v5.0.
An integrated "YouTube Video Uploader" makes it simple to transfer video content directly from your BlackBerry smartphone to the Web.
And the new universal search function in BlackBerry 6, which RIM highlighted in one of its recent BlackBerry 6 teaser videos, also integrates with online video-sharing services such as YouTube, so it's quick and easier to find the content you desire. New settings also enable higher video-streaming quality over Wi-Fi connections, according to RIM.
Polished Camera UI with More Custom Image Settings
A new UI for the BlackBerry camera app makes it easier to snap the images you desire, according to RIM. New custom settings, such as portrait and landscape orientations, face-detection technology and a "sports mode," meant for capturing live-action shots, all mean BlackBerry users will be able to capture a wider variety of images in better quality.
Touch-screen BlackBerry devices will also very likely shine in the image- and video-categories, because many new on-screen controls make navigating image-collections and choosing custom settings easier and faster.
New "BlackBerry Podcast Service" App
All BlackBerry smartphones running BlackBerry 6 and sold in North America will be preloaded with RIM's new BlackBerry podcast service application, meant for finding, downloading/streaming and listening to podcasts and other audio content. Best of all: The content in the new BlackBerry podcast app will be completely free of charge, at least at first.
RIM's been lacking such a podcast app for some time, in my opinion, and it's nice to finally see the company fill in that gap…even if it did take longer than expected.
Media Player Integration with BlackBerry App World
The BlackBerry 6 media player will integrate with RIM's BlackBerry App World mobile software store to make it easier for users to find new multimedia-related applications. And it should be easy to search specifically for images, music or video, since users will be able to access image-, audio- and video-specific sections of BlackBerry App World via the media player.
New Version of BlackBerry Desktop Manager with Media Sync…for PC Only?
Finally, RIM mentioned that a new version of its desktop synchronization software, BlackBerry Desktop Manager will be released shortly after BlackBerry 6's debut, and it will support video-synchronization, on top of the current image- and music-sync available in the current Desktop Manager for PC. What RIM didn't mention is if those new video-sync features will be PC-specific and unavailable to BlackBerry Desktop Manager for Mac user, myself included.
RIM's most recent Desktop Manager for PC build supports image and video sync, via Roxio Media Manager, but the Mac version only offers music-sync features. I sincerely hope RIM brings the Mac version of Desktop Manager up to speed with BlackBerry 6, as it's really unacceptable at this point not to support Mac and PC user equally.
Unfortunately, it's unclear whether or not Mac users will also get access to these new features, but the fact that RIM did not specify Mac-support probably doesn't bode well for Apple computer users.
There you have it. The latest rumors suggest RIM's BlackBerry 9800 slider, thought to be the first BlackBerry 6 device, will be released on AT&T in the United States on August 15, so it shouldn't be long before we can all get thumbs on the new OS.
Check out BlackBerry 6 in action or pop on over to the Inside BlackBerry blog for more screen shots and specifics.
AS
FREE CIO BlackBerry Newsletter
Get better use out of your BlackBerry and keep up-to-date on the latest developments. Sign-up »