U.S. wireless carrier AT&T this morning announced two new smartphone-data pricing tiers for its wireless customers and eliminated its former unlimited data option. The new data packages are $15 a month for up to 200MB of data; and $25 a month for 2GB. The new pricing tiers go into effect on June 7, and they must also be bundled with a voice and messaging plan. (More specifics on the AT&T changes are available on the carrier's site.)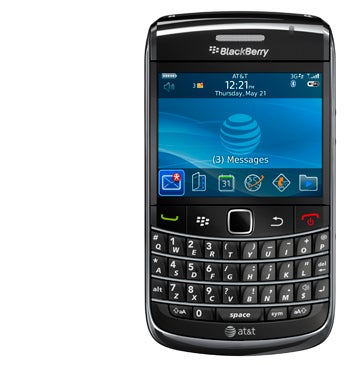 While handfuls of blogs and tech news sites are quickly calling foul of the new pricing and the lack of an unlimited option, Research In Motion (RIM) says BlackBerry smartphone users on AT&T will actually benefit from the carrier's new tiered data-pricing announcement. Here's why.
From RIM:
"RIM welcomes this news since these new pricing plans will translate to savings for BlackBerry customers due to the industry-leading efficiency of the BlackBerry platform. Thanks to RIM's longstanding focus on wireless data efficiency and investment in related technologies and infrastructure, the BlackBerry platform is significantly more efficient than other mobile platforms and this leads to a major advantage for users with tiered pricing plans."
The BlackBerry-maker is referring to the method of data compression used by BlackBerry infrastructure and devices to "shrink" down data packets into smaller units for easier transport and less data-usage overall. Since BlackBerry users generally employ less data due to this compression than, say, iPhone or DROID users, many are better posited to take advantage of AT&T's announcement and benefit from the lowest, $15 data-tier. In fact, 65 percent of AT&T smartphone customers use less than 200 MB of data per month on average, according to the carrier, so more than 50 percent of its user-base could potentially end up paying less for data.
AT&T currently offers three different data options for consumer BlackBerry users: 1) BlackBerry Personal, which provides unlimited data for $30; BlackBerry Personal Bundle, which gives users unlimited data and messaging for $50; and the $60 BlackBerry Personal Bundle with tethering, which gives customers up to 5GB of data that can be used for both tethering and mobile Web surfing. (Note: Additional charges may apply for corporate users on a BlackBerry Enterprise Server [BES].)
Users of the new 200MB "DataPlus" plan will be charged an additional $15 for 200MB more if they exceed their initial data allotment. "DataPro" customers who exceed their 2GB of monthly data will be charged another $10 per GB of data used, according to AT&T. And tethering can be added for another $20 a month.
So while RIM appears to be correct in its assertion that many BlackBerry users will be able to benefit from the AT&T data changes, people who use more than two or three GBs of data a month without a tethering plan, could end up paying more than they did in the past. It's also worth noting that current AT&T smartphone customers are not required to switch to the new plans when extending or renewing a contract, but they can choose to do so–though they'll be unable to return to the old data plan after the switch, according to AT&T PR rep Seth Bloom.
For the most part, AT&T BlackBerry users who employ less than 200MB of data should see their data costs cut in half. But you can say bye-bye to that unlimited AT&T data option and "power-users" who eat up more than a few GBs of data a month will very likely end up paying more for that same amount of data.
I also can't help but wonder if additional U.S. carriers will follow suit and start to offer their new data-pricing tier and/or do away with unlimited data options.