BlackBerry smartphone owners with Apple Macintosh computers can this morning update their BlackBerry Desktop Manager for Mac software to version 1.0.3, build 19 (v.1.0.3.19).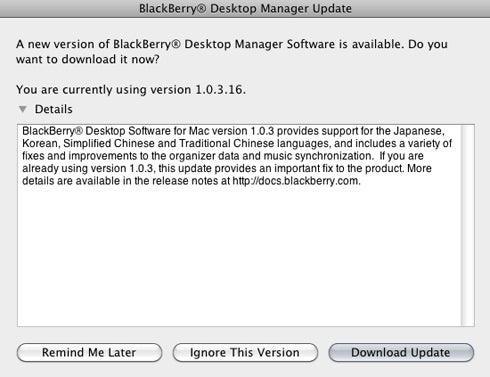 The 32MB update is a minor one, but according to early feedback, basic functions like calendar- and iTunes-music-sync have been notably improved. The last Desktop Manager for Mac update came just one month ago, but it reportedly introduced some new sync issues. The latest update appears to have resolved some of these issues.
From RIM:
BlackBerry Desktop Manager 1.0.3 build 19 introduces improvements to device connectivity, synchronization and various fixes, and support for the following Asian languages: Japanese; Korean; Simplified Chinese; and Traditional Chinese.
You can grab the update here. And additional detail on the latest build can be found on RIM's BlackBerry support documents page.
AS
FREE CIO BlackBerry Newsletter
Get better use out of your BlackBerry and keep up-to-date on the latest developments. Sign-up »
Al Sacco was a journalist, blogger and editor who covers the fast-paced mobile beat for CIO.com and IDG Enterprise, with a focus on wearable tech, smartphones and tablet PCs. Al managed CIO.com writers and contributors, covered news, and shared insightful expert analysis of key industry happenings. He also wrote a wide variety of tutorials and how-tos to help readers get the most out of their gadgets, and regularly offered up recommendations on software for a number of mobile platforms. Al resides in Boston and is a passionate reader, traveler, beer lover, film buff and Red Sox fan.