Many critics write off Twitter for its collection of mundane this-is-what-I-ate-for-breakfast tweets, but the microblogging site has also become the go-to source for breaking news and social commentary. When the Haiti and Chile earthquakes struck, thousands posted real-time updates right from the scene. And when Captain Sully landed the U.S. Airways jet in the Hudson River, bystanders tweeted photos of the rescue efforts.
Realizing the historic value of these commentaries and first-hand accounts, Google has begun archiving every tweet in what it calls "Replay"—a search function that presents in bar-chart-form the popularity of tweets through a period in time and lists associated tweets for you to browse chronologically.
To access Replay, perform a Google search, choose "Show options…" This reveals a toolbar on the left; click "Updates." A graph will appear denoting the popularity of that phrase or keyword at that point in time. By hovering over the graph, you can zoom in to a more specific time of day and read the tweets that were sent in that time period.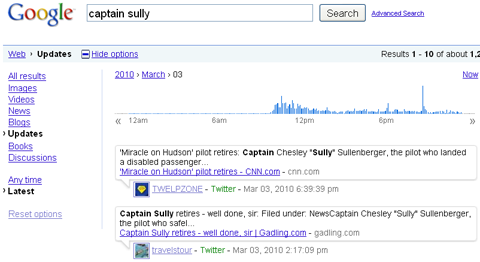 Aside from its mission to preserve social commentary on important events, Google Replay will likely catch the eye of businesses as another tool to use in gauging the public's reaction to a big announcement or product release. How did people respond to it? How did their opinions change over time?
What's also great about Google Replay is that it fills a major void left on Twitter's website: searching your own, personal tweets from weeks, months or even years ago (something I've wished for in the past). Type in your Twitter username and you can view your activity (along with @ replies) over the months. Searching for a specific tweet? You're bound to find what you're looking for—Replay is capable of narrowing searches down to a three-minute time period.
Currently, Google has archived tweets dating back to February 11, 2010, and soon you'll be able to explore tweets dating back to the very first one ever posted on March 21, 2006. All in all, a pretty cool tool with lots of potential. How will you use it?
Staff Writer Kristin Burnham covers consumer Web and social technologies for CIO.com. She writes frequently on Twitter, Facebook, LinkedIn and Google. You can follow her on Twitter: @kmburnham.