BlackBerry-maker Research In Motion (RIM) is no stranger to the idea of corporate sponsorship. In fact, it's almost as common to see BlackBerry products pop up on TV shows and in live events today as it is to see Apple computers.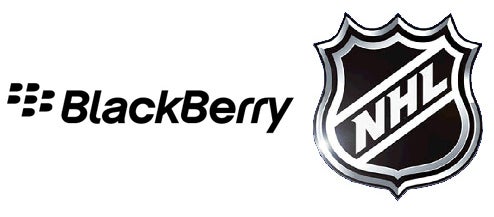 Recent high-profile BlackBerry marketing-partnerships include promos with signer/lothario John Mayer, uber Irish-band U2, 80s pop-icon Madonna, TNT's NBA-focused "Reggie's Mailbag" and an ongoing pact with The Black Eyed Peas' Will.i.am. BlackBerrys are also popping up left and right on popular TV shows like Burn Notice and the new Dr. Who.
The latest such endeavor for RIM is a deal with the National Hockey League (NHL) to sponsor the upcoming BlackBerry All-Access Pre-Game Show, a new "Web-series" that'll run online during the 2010 NHL playoffs, starting tonight.
The spots will be filmed in New York City prior to the games, and they're expected to be available during every 2010 playoff matchup, at websites including NHL.com, the official NHL YouTube and Facebook pages, and Ticketmaster.com. It's unclear whether or not there will be any promotion/tie-in with the actual televised games.
This new sponsorship is noteworthy, because RIM won't just be pushing its BlackBerry devices, it will heavily promote its BlackBerry Messenger (BBM) chat application. BBM is a BlackBerry-specific mobile IM application that uses unique "PIN" codes associated with every BlackBerry to connect RIM smartphone users.
RIM's sponsorship will reportedly include branding in the name (BlackBerry All-Access Pre-Game Show), on-screen graphics, audio mentions and set integration. And NHL "reporters in the field" will employ BBM to relay information back to the studio and online viewers.
Viewers will also be able to participate, thanks to a BBM "virtual insider" named Stanley10, in reference to the Stanley Cup, the trophy awarded to the NHL championship team every year. Interested parties will be able to add Stanley10 to their own personal BBM contact lists, and they'll receive "breaking news and tips of the day" directly via BBM.
RIM, long seen as a boring, business-oriented company, has been trying to reshape this past perception in recent days, by reaching out specifically to consumers and other non-business users, and this new NHL-deal is just the latest example.
I'm not much of a hockey fan, but I plan on checking out at least one showing of the BlackBerry All-Access Pre-Game Show, if for no other reason than to see if RIM has any surprises in store. I'm also particularly interested in the use of BBM, since it attempts to engage viewers in a new and different way. I give RIM's ad-team credit for coming up with the idea—or at least going along with it. It will be interesting to see how many folks actually add Stanley10 to BBM. There will also no doubt be quite a few viewers left out, since you need to already have a BlackBerry smartphone to participate.
AS
BroadcastingCable.com via BerryReview
FREE CIO BlackBerry Newsletter
Get better use out of your BlackBerry and keep up-to-date on the latest developments. Sign-up ť