Friday was a big day for mega-popular social-networking/micro-blogging service Twitter; the company announced its acquisition of the most popular Twitter application for Apple's iPhone, Tweetie; and it said that it had "worked closely" with Research In Motion (RIM) on the first "official" BlackBerry client, which was just released to the public–in beta form–last week.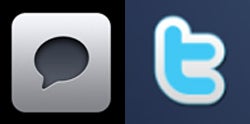 However, many third-party Twitter developers have voiced concerns that Twitter's support and "official" branding of both Tweetie, which will eventually be renamed "Twitter for iPhone," and RIM's Twitter for BlackBerry app will make it more difficult to market and sell "non-official" Twitter apps made by external developers.
On Sunday, just two days after the initial announcement, Twitter's director of its platform team, Ryan Sarver, attempted to assuage developers' worries over the announcements by explaining that the acquisition and endorsement of the BlackBerry app will actually be a good thing for the Twitter ecosystem, and therein, developers…in the long run.
From Sarver's e-mail:
"We love the variety that developers have built around the Twitter experience and it's a big part of the success we've seen. However when we dug in a little bit we realized that it was causing massive confusion among user's [sic] who had an iPhone and were looking to use Twitter for the first time. They would head to the App Store, search for Twitter and would see results that included a lot of apps that had nothing to do with Twitter and a few that did, but a new user wouldn't find what they were looking for and give up. That is a lost user for all of us."
The post goes on, but the gist is basically this: Twitter is putting its support behind both Tweetie, which has already proven to be hugely popular in Apple's iTunes App Store, and RIM's new BlackBerry client. That's because folks new to Twitter need to be able to quickly find an app for both iPhone and BlackBerry that's clearly labeled "Twitter" because the company/you-the-developer will lose them as potential customers if they get confused by the mass of already available Twitter apps from third-parties and simply decide to forget about Twitter altogether.
Umm. Okay.
Sarver also writes that even though the move may present a new challenge for third-party Twitter developers, it's really "beneficial to everyone in the ecosystem…[since] more opportunities become available with a larger audience."
He also goes on to apologize for the confusion that came along with the company's usage of the word "official" in reference to Twitter for BlackBerry and the upcoming Twitter for iPhone–formerly Tweetie. But the post on Twitter's blog announcing the new BlackBerry app hasn't been changed; it still reads:
"Working closely with RIM to deliver the OFFICIAL Twitter app has been a great experience and we are looking forward to bringing more and more Twitter innovation to BlackBerry."
Obviously, Twitter can purchase/support any and all of the third-party applications it pleases; however, I think that its attempt to disguise what is clearly a threat to third-party developers as an opportunity is deceptive, to say the least.
Why, I ask you, would someone new to Twitter, purchase Twittelator Pro for iPhone, which costs $4.99 on the iTunes App Store, when Twitter for iPhone, which will no doubt be the first result when someone searches said app store for "Twitter", is both endorsed by Twitter–and free?
On the BlackBerry front, why would someone who has no idea what to expect from a mobile Twitter app, purchase a BlackBerry app like TweetGenius, which costs $7.99, when RIM's official Twitter for BlackBerry is endorsed by Twitter and free of charge?
Sarver is, in effect, saying that third-party developers' application-names aren't beginner-friendly enough, so the company is pushing its own applications in front of the rest to hopefully build the overall Twitter user base. And Twitter's own apps will be free.
The average Twitter beginner probably can't tell the difference between "Twitter App A" and "Twitter App B," so if "App A" is free, she's going to skip the purchase of "App B" every time. At least that's the way I see it. Sure, folks who start off using a free Twitter for iPhone/BlackBerry app could, over time, get curious about other commercial (not free) apps, but what percentage will actually pay for one of the them? Especially when Twitter says its apps are the best.
Twitter is a VERY simple service, and users really only need the ability to check timelines and send "tweets," which can be done via any Twitter app. And once a user gets comfortable with one particular app, he's likely to stay with it for no other reason than it is familiar.
The timing of Twitter's moves also seems noteworthy to me, since it apparently decide to enter the Twitter-app game only recently; the company let third-party app developers gain loyal users for more than a year before stepping in and trying its own hand with a free app.
More from Sarver's e-mail:
"As we work to provide the best possible Twitter experience on all of the major mobile platforms, momentum will increase dramatically"
I think this statement is particularly telling. If Twitter really does offer the "best possible…experience on all major platforms," and for free, why would anyone pay for third-party apps? Twitter adoption, or "momentum," if you will, is already increasing dramatically. But the company's recent support for Tweetie and Twitter for BlackBerry could simply redirect that momentum away from third-party app-developers, toward Twitter itself.
That sounds to me like a clear opportunity for Twitter–and a clear threat to third-party developers.
AS
Business Insider via SFGate.com