Microsoft has made it clear that it is "all in" for cloud computing as it prepares its software platforms for life in and out of the data center.
Redmond has pushed all its chips to the middle of another table too: unified communications. Yesterday at the VoiceCon 2010 conference in Orlando the company announced that the next generation of OCS (Office Communications Server), code-named Office Communications Server 14, is going to ship before the end of this year.
OCS — the foundation for Microsoft's unified communications strategy — is a software platform that integrates instant messaging, presence, VoIP and telephony, and video conferencing into Microsoft Exchange, Outlook and SharePoint. Microsoft claims that OCS has grown double digits every year over the last three years and is used by more than 70 percent of the Fortune 100 companies.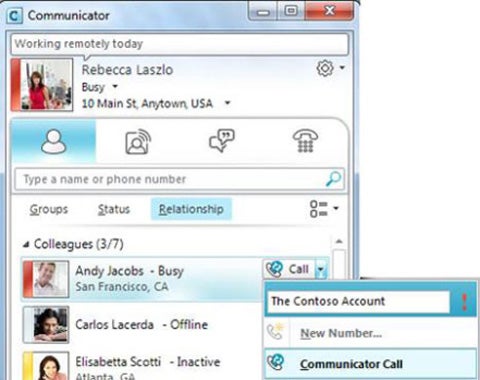 Based on the OCS 14 demo in Orlando, Microsoft is emphasizing voice and video capabilities, social networking tools such as activity feeds and improved skill-based search (finding colleagues based on their expertise) and location-aware search (where and when colleagues are available). It is another step in Microsoft's efforts to get companies off of old PBX systems. At the VoiceCon conference, Gurdeep Singh Pall, VP of Microsoft's Unified Communications group, said that OCS increased sales by more than 50 percent in the year that ended June 30, and he also recently told BusinessWeek that 100 million customers are making calls using OCS.
Microsoft's main competitors in this space remain heavyweights Cisco, Avaya and IBM. The UC market is predicted by Forrester Research to grow five-fold to $14.5 billion by 2015.
In a company blog post Microsoft's Pall writes that three years from now 75 percent of all business applications will have voice features by default and he also predicts that more than half of VoIP calls at work will include more than just voice.
If this is the near-future, then Microsoft is more ready than anyone. Its key advantage is that it has the collaboration part down because so many corporations already use Exchange and SharePoint. 2010 could be a year when Microsoft makes big strides in the UC market as its whole wave of Office 2010 products (Exchange, SharePoint, OCS) will have launched by the fourth quarter.
SharePoint 2010: Five New and Improved Features
Microsoft SharePoint: Three Sleek Social Networking Alternatives
Slideshow: Fighting the Dark Side: Tech's Heroes and Villains
Microsoft also has a spate of partners such as Hewlett-Packard, NET, Polycom and Verizon eager to have their telephony gear be interoperable with OCS. Meanwhile, competitor Avaya contends that its open model that uses SIP (Session Initiation Protocol) better supports multi-vendor environments and that Microsoft's goal is merely to lock in customers.
Cisco will be the more direct competitor for OCS 14, but Microsoft's e-mail system is much more prevalent in the enterprise than Cisco's. And unlike Cisco, Microsoft does not provide the hardware. But OCS 14 will need to be compatible with as many hardware makers as possible to avoid vendor lock-in accusations. Microsoft's Pall said that OCS 14 is set up to work with aging PBX systems.
"This system works with the communications systems you have in place," Pall said. "It will sit next to it and work well with it, because you may not want to throw away the PBX."
To date, most organizations use OCS 2007 R2 within Outlook (if they use it at all) for instant messaging and keeping tabs on the availability of co-workers — known as "presence." The phone and voice features of OCS are not yet used in mainstream way.
It's possible that Microsoft is overestimating how quickly businesses will move from traditional phone systems to unified communications tools. But most would agree that the desk phone is slowly going the way of the newspaper, the compact disc and the hard-cover book: physical entities being replaced by more efficient Web-based tools and software.
There is no word yet on when a public beta of OCS 14 will be available, but the sooner we see the voice and video conferencing features of OCS 14 the better.
If Pall's three-year predictions hold true and OCS 14 delivers simpler communications at a lower price, then Microsoft will be in a sweet spot to have Outlook 2010 be the enterprise voice-video-email-chat platform to beat.
What do you think? Do you plan to utilize the voice and conferencing features of the new version of OCS?
Shane O'Neill is a senior writer at CIO.com. Follow him on Twitter at twitter.com/smoneill. Follow everything from CIO.com on Twitter at twitter.com/CIOonline.