Former SAP CEO Leo Apotheker and former "Tonight Show" host Conan O'Brien may seem to have little in common on the surface, but their recent downward career trajectories offer some bizarre and common twists of fate that are just too striking to ignore: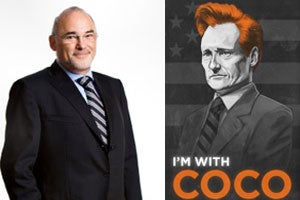 Credit: SAP (left); Mike Mitchell
1. Both endured lengthy succession plans: Apotheker served for years as a successor-in-waiting at Henning Kagermann's side; O'Brien waited what seemed like decades for Jay Leno to relinquish the "Tonight Show" job.
2. Both men stepped into the spotlight in the shadows of predecessors who enjoyed years of unbridled success.
3. Both had problems drawing an "audience" and getting customers to buy into their brand of "leadership": Apotheker getting customers to buy into SAP's future; and O'Brien getting advertisers and viewers to buy into his comedic stylings.
4. Both were consumed by a three-letter acronym: ERP and NBC.
5. Both lasted just seven months on the job: Apotheker from July 2009 to February 2010; O'Brien from June 2009 to January 2010.
6. Both chiefs became embroiled in rumors of back-stabbing by predecessors and other high-level executives.
7. Both of their reigns came during a horrific economic period—not their fault or an excuse, but the economy certainly didn't help either of their causes.
8. Both have been interviewed by Charlie Rose: Leo in January 2009; Conan in August 2006.
9. Both can speak multiple languages: Apotheker is fluent in five (English, French, German, Dutch and Hebrew); O'Brien speaks English and now Spanish!
10. And both share the same endearing nickname: "Coco." (OK, that may not be true in Leo's case.)
Do you Tweet? Follow me on Twitter @twailgum. Follow everything from CIO.com on Twitter @CIOonline.